A Farmer's Market is a
Wonderful Place to Visit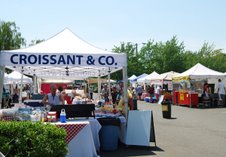 The popularity of FARMER'S MARKETS has grown in the last few years due to health concerns with processed foods, and foods that contain unhealthy ingredients. "Organic" is a popular buzz word these days.
Organic farming is on the rise, and a farmer's market is a good place for new growers who have perfected their production skills to showcase their foods for consumers. A farmer's market is a wonderful place to visit as many of the growers enjoy the interaction with customers as well as their vendors. It has become a social gathering for those who prefer a healthier lifestyle. In addition, farmer's markets are not just a place to buy food, it has a festive atmosphere that affords consumers to talk with farmers about how the produce was grown and how it can be prepared.
Established farmer's markets can be among the jewels of the community, and for this reason should have strong support from the Chamber of Commerce or economic development council. Cities often provide space for a market free-of-charge. They can also help promote special events that draw customers both to the market and to shops in the vicinity. The city may be willing to construct shelters to give vendors and customer's protection from the rain and sun.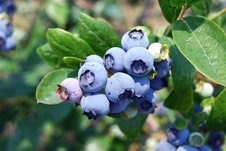 The best time to visit farmer's markets is in the late summer and early fall. From the small mom-and-pop stand at the corner, to the large organized market with multiple vendors and extensive selections; it is definitely worth the trip. Experiencing food at its finest can encourage even the pickiest eater to try a few bites. When it comes to fresh fruits and vegetables, the market is the perfect place to locate some fabulous food finds for everyone in the family!
Today, a growing number of people are taking up their mesh reusable grocery bags this summer and heading for the Local Farmer's Market. According to one source, organics has become more of a movement than a fad. "Once people start shopping at a farmer's market, it's hard for them to go back to regular sources, especially for produce.The quality, the freshness and the taste is so much better."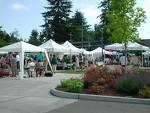 Aside from offering a neighborly locale to stroll through the day and pluck food from your own backyard garden, farmers markets are the best way to get fresh, local produce. An increasing amount of the produce is grown organically, which makes the market even more attractive to those who prefer their fresh produce without fertilizers or pesticides.
People worldwide are rediscovering the benefits of buying local food. It is fresher than anything in the supermarket, and that means it is tastier and more nutritious. No matter where you might find your Ideal Place to Retire there are plenty of Farmer's Markets that can accommodate your healthy lifestyle.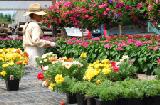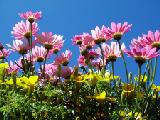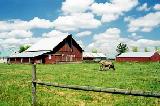 Photos courtesy: Renaude Hatsedakis
---
Did you find what you are looking for? Try Search Bar.
---
Arizona
Farmers' Markets all over the state bring the best of these crops directly to you. Each market has their own page with detailed information. For currently open and upcoming markets serving the greater Phoenix area including Scottsdale, Mesa, Carefree, Glendale, Buckeye, and Ahwatukee:
click here for map and information
California
California Certified Farmers' Markets provides quality crops, straight from the Farms to the local community. It's a place to enjoy California-grown, farm-fresh fruits and vegetables and provides fun family activities. Each market has their own dates and times.
Here are information and map of the L.A.area.
The Pacific Coast Farmers' MarketAssociation operates and promotes Certified Farmers' Markets in local communities throughout Northern California.Many of these farmers' markets are open year-round, some are open seasonally. Visit one of these farmers' market for the freshest seasonal produce, all California Grown.
Here you can find location and market schedule of the seven counties

The Ferry Plaza Farmers Market is a California Certified Farmers Market operated by CUESA, the Center for Urban Education about Sustainable Agriculture. We run three markets per week. Click here for details
---
Return to Retire to California

From retire to Farmers Market to Home