Retire to California
Home of Google & eBay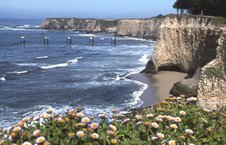 Retire to California. While some baby boomers are considering Florida as their retirement spot, more retirees are moving to sunny California and calling it home.
Why Retire to California such an ideal place to retire to? As the saying goes, "Do you have an hour?" California is a state in which one can become immersed in such activities including: music, the arts, live performances, theaters, museums, award ceremonies, educational facilities, sports, beaches, Rose Bowl Parade, cable cars, and parks: to name a few.
More importantly, where else can you shop at the world-renowned Rodeo Drive in Beverly Hills, take a ferry around San Francisco Bay or have an exquisite meal at
Fisherman's Wharf
and top it off with Ghiradelli's chocolates? In addition, Los Angeles is filled with back lots and the top production companies as well as famous music studios and stars homes.
While all all the afore mentioned activities are part of an official tourist map, retiring to California affords you the opportunity to explore all of the places, sites, and historic landmarks that are not part of any itinerary, but can be visited at your leisure without any timetable. The cuisine is superb and you certainly have a choice of international fare in both San Francisco and Los Angeles.
Apart from this, you can visit such places as Venice, Exeter, Berkeley, and Temecula which are among the top places to retire to as well.
Exeter
is a quaint town situated between Los Angeles and San Francisco.
Berkeley
is the epicenter of higher education in San Francisco, while Temecula is an old western town in southern California.
No matter which city or town you choose, retiring to California is the ideal place to retire. So many famous songs have been written about California and sung by such people as Tony Bennett, the Beach Boys, and more.
If you are considering retiring to a large city or a small town, take a good look at California and begin researching the many wonderful attributes of this great state. Surely, no matter what your taste – Retire to California is definitely one state you will want to call your new home.
Retire to San Francisco, California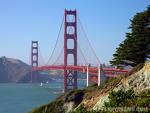 Retire to San Francisco and become immersed in the arts and entertainment that is so well known here. From its cultural mix of American Indian Contemporary Arts, the Asian American Theater Company, the Mexican Museum, the Oakland Ensemble Theater Company and Dimensions Dance Company, as well as Chinese and Japanese cultural centers and the numerous festivals presented during the year, you will be hard pressed to find any city that offers as much as this great city. Retire to San Francisco and you will immediately come to understand why it has so much "heart."Click here for more information about San Francisco: best place to retire in California
Retire to Exeter, California


Retire to Exeter, known both as "one of the Prettiest Painted Places in America; " the mural program, run by the Exeter Chamber of Commerce is one way citizens and city leaders have put Exeter on the map. It is as well the "Citrus Capitol of the World." Here you have the best of both worlds because while you will be living in a small quaint town, you will also have the ability to visit Los Angeles and San Francisco – both of which is only a three hour drive away.Click here to learn more about Exeter, California

National recognition was given to Exeter in 2000 as "One of America's Prettiest Painted Places". More than twenty huge professional murals have been painted .A "Festival of Arts" promotes economic development through the arts and tourism by producing an outdoor art gallery reflecting Exeter's history and culture. Read more
---
You might want to check out the two other States
to retire on the Pacific West Coast

*Oregon  *Washington

TOP of the page Retire to California



href="http://www.ideal-places-to-retire.com/best-states-to-retire.html">GO TO Best States to Retire





href="http://www.ideal-places-to-retire.com/college-towns.html">RETIRE to College Towns



HOME to Ideal Places to Retire
var gaJsHost = (("https:" == document.location.protocol) ? "https://ssl." : "http://www."); document.write(unescape("%3Cscript src='" + gaJsHost + "google-analytics.com/ga.js' type='text/javascript'%3E%3C/script%3E"));