Acapulco Famous For
Its Endless Sunshine
Touted as one of the top ten hotels in Acapulco, the Fairmont Pierre Marques can be a college student's dream Spring Break.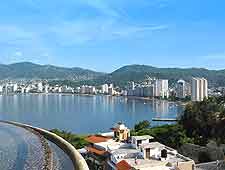 Known as a beautiful luxury beach front resort, the hotel is 20 minutes south from downtown Acapulco. With its expansive beach and relaxing style, the Fairmont Pierre Marques is the perfect tropical getaway resort. This Mexican resort offers the right combination of activities for any vacation plan.
Recreational activities begin with five outdoor tennis courts, and water sports such as scuba diving, water skiing, and sailing.
The recently renovated restaurants and bars offer the best of the Mexican and international cuisine. A typical four night package can run approximately $637 with air fare included.
Among the amenities available at this hotel are:
* Breakfast included.
* Air-conditioning with individual climate control
* Alarm with clock and radio
* Color cable television
* Purified water
* Safety deposit box
* Telephone with direct dial and voice-mail
Health and safety concerns should be noted. With its hot and humid weather, it is advisable to check with your doctor concerning any precautions you should take during your visit. Bring good sunscreen with you, and your favorite brand of tanning lotion.
It's best to drink bottled, purified water, and drink ice cubes made from purified water. Take some precaution to protect yourself from mosquitoes as Dengue Fever is a concern along the part of the Pacific Coast of Mexico where Acapulco is situated
While you may have heard about crime increasing in Acapulco, it is subsided. No matter where you travel, it is always recommended that you stay vigilant and become aware of your surroundings
If you are headed to Acapulco for the sun, sand, and beach – the best advice anyone can offer is to remain at the hotel during the evening hours and have a great time enjoying their facilities.
---

From Acapulco Vacation to Vacation Destinations

From Acapulco Vacation to Home
---