Retire to North Carolina
Home of the Great Smoky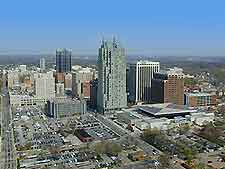 Retire to North Carolina as it is among the many states you may consider, it is unsurpassed as one of the best states to retire to.Filled with museums, colleges, arts and culture, outdoor recreation and lush landscapes, this state is filled with history.
Whether you choose to live in a quiet neighborhood; a newly built golf community; in a restored Victorian bungalow; in a new luxury condo; or in a smaller, historic town, North Carolina is filled with sights, sounds, and tastes sure to enhance your retirement experience.
With an average temperature of 70 degrees, you can spend your days nestled under the shadow of the Great Smoky Mountains; fill your days with sports activities; visit museums and participate in festivals; enjoy its history and heritage; derive pleasure from the incredibly fine restaurants; shop until you drop; become engrossed in the arts and culture including: their theaters, playhouses; performing arts facilities; studios, wineries and galleries.
Offering affordable housing and a safe and comfortable life, North Carolina is in a building boom, which is why it is touted as one of the best states to retire. With more and more retirees moving to this state every day, it has become a place in which the word "community" has been redefined. Depending upon which city you choose, you can look forward to a healthy, happy and diverse lifestyle.
Visit the many sites online or spend a few hours at your local library. Seek as much information as you can find. Begin with the major cities first to ascertain if they are not only within your budget, but fit your lifestyle. While North Carolina is your definite choice, selecting the city will be the litmus test. Allow enough time to acquire all of the facts you need. Once you make your decision, your anxiety will turn into exhilaration! Retire to North Carolina and see.




Charlotte, North Carolina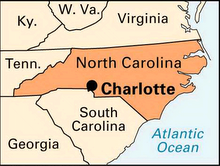 There are so many benefits of living in Charlotte that are unequaled anywhere else. Beautiful tree-lined city streets, parks and nature preserves, combined excellent dining and shopping all make Charlotte a modern, world-class city. The strong economic environment coupled with the affordable cost of living makes Charlotte an exciting place to retire.



---
There is something for everyone in Charlotte, whether
you are a sports fan or just want an ideal place to
retire, Charlotte may be the right choice for you
Read about Retirement in Charlotte


---
---
Check out other states to retire
Return From Retire to North Carolina b> to Home