Retire to New Zealand
for its Natural Beauty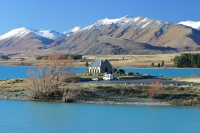 Retire to New Zealand and enjoy the crisp lush landscapes; mountainous terrain; magnificent waterfalls, and the friendliest people on earth. A member of the Commonwealth of Britain, it offers a diverse culture. Along with the indigenous Maori population, this is one place to add to your list of countries to retire to.

Because of its natural beauty, rolling hills, and just incredible scenery, many US production companies have been filming here for years. Lord of the Rings and Xena: Warrior Princess; are two which come to mind. Experience the historical and cultural background of this country that offers any history buff a wealth of information and exploration into the Maori, who were the first settler.


Influenced by Europe and Asia, it's cuisine is unsurpassed in flavor and unique blends. However, do not be surprised to find that a more casual ambiance may be the norm, rather than the exception. Take heart; there are more than 900 Asian restaurants throughout this country and more than enough variety to satisfy everyone's taste buds. Noted for their Chardonnay and Sauvignon Blanc wines, this country has achieved excellence in this area as well.
A variety of night-clubs, cabarets, pubs, concerts and live performances to choose from, as well as four casinos, in Auckland, Christchurch, Dunedin and Queenstown are among the many forms of entertainment that await you. Most cities stage first-class concerts and shows. Theater, orchestral concerts, ballet,rock and jazz are well represented.
You will find that it has a laid back style which is most accommodating. More importantly, however, you will discover a landscape that is unsurpassed in its beauty and diversity, depending upon where you are. From mountain ranges; sandy beaches; incredibly lush rain forests; glaciers; fiords; and volcanoes; you will be utterly amazed at the changes in landscape as you travel from one area to another.
---

Specific Information for New Zealand
The U.S.
Consulate General in Auckland
, a branch of the U.S. Embassy in Wellington, is located in the Citigroup building in Auckland's CBD.
The Consulate General in Auckland is also responsible
for consular services for all of New Zealand.
For further information, please follow this link
---
What is more inspiring than a gallery of
beautiful pictures for your pleasure?.
---
---
TOP to New Zealand
TOP to Travel Abroad
COUNTRIES to retire
HOME to Ideal Places to Retire
---