Belize Retirement Communities Are a Best Kept Secret

Living in one of the Belize retirement communities means you'll find 540 species of birds; 4,000 species of flowery plants and 700 kinds of trees. Belize is nearly 40 percent protected as parkland and natural preserves.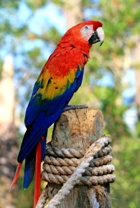 In addition to Belize's unique scenery and underwater beauty, the country has managed to remain off the world's radar.
Belize is Culturally Unique
Belize retirement communities comprise of several cultures and ethnicities. As a part of the Western Caribbean Zone, Belize shares a common heritage with the Caribbean, Latin America, and some British colonial heritage.
Belize is located in northern Central America, sharing a border with Quintana Roo; a Mexican state to the north; Guatemala to the west and south; and to the east is the Caribbean Sea. There are five ethnic groups: Mestizos; Kriol's; Spanish; Maya and Garifunas.
As a part of the Western Caribbean Zone, Belize lies on the East Coast of Central America and in the heart of the Caribbean Basin.
The population is around 250,000 consisting of a mixture of:
Creoles
Garifunas
Mestizos
Mayas
Caucasians
Mennonites
Lebanese
Chinese
East Indians
Creole is the commonly used dialect you will hear spoken throughout the country, but English is the official language with Spanish as the second language.
Belize Retirement Communities Examples
When selecting from the Belize retirement communities, here are a couple of examples:
Corozal Shores is located in Northern Belize with waterfront properties, homes, residential lots, multi-use parcels, and a nine-hole golf course, all located within this unique tropical neighborhood.

The community is a beautiful, tranquil, waterfront community set within a tropical paradise.

Caribbean Caye is one of the new Belize retirement communities located just outside Punta Gorda in Southern Belize.

Nestled within the confines of a cultural Maya village, you live and become personally involved with the native people in this gated, secure community.

Caribbean Cay has a large freshwater swimming pool, with waterfalls and caverns, inviting you to lounge and relax.

The river offers dug out canoeing, swimming and an 11-mile jungle trip to the sea. A golf course and fresh water marina are under development.
Retired Persons Incentive Program
Belize retirement communities are reasonably priced with tax and duty exemption attracting retirees. Housing and land are relatively inexpensive.
With the Retired Persons Incentive Program there have been new developments in Belize retirement communities, offering full amenities and customized packages to retirees.
Anyone 45 years and older can qualify for the program. Once approved, your dependents are also included in the program.
Here are the qualifiers for the program:
Applicants must receive a monthly income of not less than $2,000 through a pension or annuity that has been generated outside of Belize.
In order to receive a pension, the company has to prove that it has been in operation for at least 20 years.
The applicant must present two bank references from the company that is sending the pension.
The company granting the pension must present a document outlining its pension benefit.
Once you qualify for the program, there are certain procedures you must follow:
When you first enter Belize you'll need to import your personal effects and an approved means of transportation free of all import duties and taxes.
You'll have one year from the date that you officially enter the program to import your personal and household effects free of duties and taxes as determined by the Customs Department.
Belize Retiree Budget
Living in Belize, you should have an idea of your monthly expenses (in U.S. Dollars):
| | |
| --- | --- |
| Expense | Cost $ |
| Monthly rent | 300 |
| Utilities, power, telephone and internet | 500 |
| Groceries | 150 |
| Entertainment | 100 |
| Transportation | 100 |
| Health insurance | 50 |
| Total Monthly Budget | 1200 |
What you Need to Know
As you think about living in one of the Belize retirement communities, there are a few things you'll want to keep in mind.
Transportation: the most common and least expensive form of transportation for the residents of the Belize retirement communities is by bus.

Buses are the primary mode of transportation for most Belizeans, routes run on regular schedules and will stop to pick up or drop off passengers at most any location along the way. Every bus operates with a driver and a conductor.

Belize City and Belmopan serve as the central hubs for bus transportation. While buses travel to and from each town and district several times daily,

many of the more remote villages will only see one bus out and one bus in each day.

Your Pets: If you are bringing a domestic pet with you into one of the Belize retirement communities, you'll need a valid import permit; international veterinary certificate (needed seven days prior to departure), valid rabies vaccination certificate, and inspection by a quarantine officer.
Belize Currency: The Belize Dollar (BZ$) has a fixed rate of exchange of BZ $2 to U.S. $1. Always make sure that you understand which dollar rate is being quoted, the Belize dollars or the U.S. dollars.
Belize Time Zone: Time observed year round is GMT-6, which is the same as the U.S. Central Standard Time. Daylight Savings Time is not observed in Belize.
Gambling and Duty-Free Shopping: The Corozal Free Zone offers the country's largest casino. It is the premier gaming destination in Central America. The Casinos attract patrons from Mexico, Central America and from the six million annual visitors to Cancun and the Mayan Riviera.
The Mayan Ruins of Belize-Ceros: Belize has the highest concentration of Mayan Ruins in the World. There are estimates of thousands of Maya Ruin Sites, within the country. Only a small number have been found and fewer have been excavated.
Working in Belize: Living in one of the Belize retirement communities you may want to pursue working as an activity. If you would like to work in Belize, there are laws in place limiting the number of foreign employees every business can employ.

The government encourages new residents to invest in your own business if you desire to work.
Fun in the Sun in Belize
Living in one of the Belize retirement communities, you'll have your choice of activities: The Cayes or Islands; the offshore atolls; and the barrier reef are the main attractions to Belize.
You can go scuba diving; snorkeling; fishing; boating; sailing; and kayaking; as well as serving as a habitat for both nesting birds and turtles.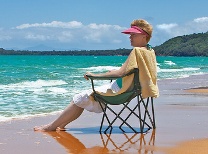 For dry land activities you have golf, disc golfing, birding, walking, gardening, or curling up in a hammock with a good book.
When you consider one of the Belize retirement communities you will be living in a breathtaking atmosphere with majestic mountains and the Caribbean Sea.
Return from Belize Retirement Communities to The Best Places to Retire Home Page