Change.Gov Coming
to the White House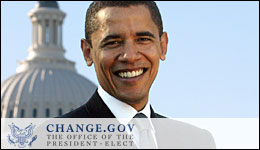 Change.gov coming to the White House at exactly one minute past noon Tuesday January 20, 2009 after Barack Obama is sworn in as president, according to a Monday news report.
That's the moment when whitehouse.gov -- the website for the past eight years of President George W. Bush -- changes hands and the savvy young NewMedia webmasters of freshly sworn-in President Barack Obama take over.
The new whitehouse.gov is expected to be the window for what is being touted as a bold experiment in interactive government based largely on lessons learned during the most successful Internet-driven election campaign in history.
whitehouse.gov is the official website of the President of the United States. This website is a great place to learn about official policy, media releases, position papers, video of speeches, etc. There are a lot of photographs, speeches and data about the operations of the White House.
Here is where you can read all the latest news of the White House.
---
You can use the box below to search for particular information either on this site or on the entire world wide web.

---

The American Journey of Barack Obama by The Editors of Life Magazine

The unfolding drama of Obama's life and political career is cinematic in scope, and never has it been presented so compellingly. In addition to a powerful array of photographs that were taken by many of the country's greatest photographers (and some that were snapped, in the quiet moments, by Obama family members themselves. All readers will feel that they are bearing witness to a singular, undeniably American story.




---
Return from Change gov coming to the White house to Home