Le Chateau Frontenac
In Old Quebec City
The Fairmont Le Chateau Frontenac in Quebec is a great romantic weekend getaway that offers great food, style, and ambience like no other.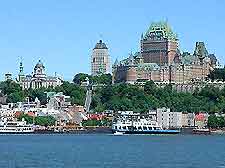 Known as an historic landmark, the Chateau Frontenac is more than 100 years old. But don't let that stop you from booking a weekend in this most unique and world renowned hotel.
Overlooking the St. Lawrence River, the Chateau Frontenac is located in old Quebec. With exquisite cuisine and old world charm, this is one hotel that will become a memorable and most enjoyable experience for lovers of any age.
Here is a typical romantic getaway package for two that can cost approximately $838.00 per person including air. The package includes:
* Two nights accommodations
* Two buffet breakfasts
* One half-bottle Moet & Chandon Champagne
* One caleche ride in Old Quebec
There are several restaurants at the Chateau Frontenac, and among them is the Le Champlain. Serving French and Continental cuisine, this plush restaurant overlooks the St. Lawrence River. The waiters and waitresses wear traditional French costumes.
For more casual dining, you can choose the Le Café de la Terrasse, where you can select any one of the ala carte and buffet items offered. For sandwiches and light cuisine, there is the Le Bistro which is located on the terrace of the Chateau Frontenac. In addition, there is the Frontenac bar and lounge as well as the tea room if you so desire.
Moreover, travelers who have stayed at this hotel boast about its impeccable service and its friendly and relaxed atmosphere. Some have even called it "magical!"
One of the most interesting rooms in the hotel is the ballroom, which resembles the Versailles Palaces' Hall of Mirrors. Moreover, the 585 rooms have been touted as most elegant in their furnishings. In addition, there is an indoor pool and gym.
Due to its central location, you can easily visit other historic sites and museums. But, if you prefer to remain at the hotel for the duration of the weekend, the Fairmont Le Chateau Frontenac is truly a romantic spot that is sure to heighten your senses.
---

From Le Chateau Frontenac to Vacation Destinations