The Colorado River Texas Runs Through
The Beautiful City Of Austin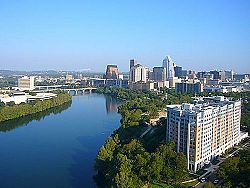 The city of Austin stands on the banks of Texas's Colorado River situated in the very heart of Texas and is surrounded by a particularly beautiful area of green hills and large lakes.
The Lady Bird Lake, formerly the Town Lake, is a major recreation area as its banks are bounded by the hiking and biking trails designed for non-motorized traffic maintained by Austin Parks and Recreation Department. Read about the many programs that this department provides


Lady Bird Lake is a year-round facility that can be enjoyed virtually anytime. It offers a wide variety of activities, both on and off the water. It is very near many fine restaurants, the famous Sixth Street with its clubs and cafes and shopping malls are just a few minutes away.


Town Lake has been renamed to Lady Bird Lake in honor of Lady Bird Johnson, the former First Lady of the United States. Much of the landscaped beauty of the parks can be credited to the former First Lady, Lady Bird Johnson, who, in the 1970s, focused her attention on the Town Lake Beautification Project. Read more in the Wikipedia


The Austin Parks and Recreation Department also offers a great variety of programs and services for people fifty years of age and older: classes, health screening, trips, tours, classes, recreation activities, special events and tournaments to name a few. Read more here

---
AUSTIN city
BEST State to retire
HOME from Colorado River Texas