Corvallis Oregon:
Beautiful College Town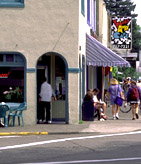 Corvallis stands out among many college towns as the ideal place to retire. Set in the Willamette Valley, within 90 minutes of the metropolitan Portland area, this community has recently been touted as not only the "most secure place to live" but has also been recognized as the "first Green Power Community on the West Coast" as well.
What is so appealing about this small college town? For one thing, with just over 52,000 residents, Corvallis is home to Oregon State University - the Beavers - and has an exquisite campus which is home to more than 18,000 students.
Outdoor recreation is not lacking in this city, Willamette Park is the City's largest park. It features significant natural areas, open meadows and playing fields. The park is best known for its Willamette River views and access; walking and jogging trails wind through the woods with several paths leading to the river's edge for easy fishing
The Riverfront Commemorative Park runs parallel with First Street in the downtown area; people of all ages enjoy strolling or biking along the wonderful Riverfront Commemorative Park with its wonderful shops and restaurants.
In addition, activities abound in Corvallis including: concerts, plays, art exhibits, festivals, outdoor markets, antique shopping, rodeos, wineries, and wildlife refuges. Outdoor recreation is not lacking in this city. With such amenities as golf, the farmers' market, miles of forest and farm roads, parks, vineyards, fishing, river-rafting, Cascade Mountain, beaches, Crater Lake, da Vinci festival, rodeos, and a host of other activities which makes its quality of life truly inspiring.
Its popularity is growing, and it is due to the fact that the lifestyle here is measured more by the quality and tranquility it offers than anything else. If you are looking for a small college town that is affordable, unique, and transcends most other more populated communities, look no further.
One of the most engaging aspects of Corvallis is this town also provides a Newcomers Club offering an opportunity to new retirees to become acquainted with others in the community, who have experienced similar life style changes. It provides a venue to make new friends, meet your neighbors, join interest groups, learn about local services and become involved in a community that welcomes newcomers with open arms.
This community is the ideal place to retire; people who have visited this wonderful town have made it their home, because they have discovered the richness and beauty that lies within this small college town is equal to none.
---
Farmers' markets
provide consumers with fresh and flavorful locally grown produce.
Click here to find Farmers Markets in the state of Oregon
---
style="text-align:center;">
From Corvallis to Retire to Oregon

href="http://www.ideal-places-to-retire.com/">From Retire to Corvallis to Home