Retire to Guadalajara Mexico
Explore its many museums
Guadalajara is a great place to retire to. It is Mexico's second largest city and capital of the state of Jalisco.
It is situated about 5000 feet above sea level resulting in a pleasantly temperate climate.
Guadalajara is a historic city with a modern outlook; it has a rich variety of architectural styles, ranging from the baroque to the modern. The historic downtown district contains several examples of neoclassical architecture such as the Metropolitan Cathedral, the Degollado Theater, the Guadalajara Regional Museum,and surrounding buildings.
The Metropolitan Cathedral (Catedral Metropolitana), dedicated to the Virgin of the Assumption when it was begun in 1561, was finished about 30 years later. A mix of styles such as Moorish, Gothic, renaissance and Classic make up its spires, arches and facades, the cathedral is the focal point of central Guadalajara; the interior is a showcase of 16th to 18th-century Spanish art.
Degollado Theater (Teatro Degollado) is a magnificently ornate theater, The inside is lavishly adorned with red and gold balconies. The Philharmonic Orchestra of Jalisco and the Folkloric Ballet of the University of Guadalajara often put on performances in this beautiful theater.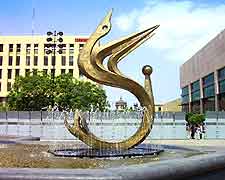 Guadalajara Regional Museum (Museo Regional de Guadalajara) is a great way to learn more about the city. This museum's extensive collection portrays the history of Western Mexico from prehistoric times to the present day. Nearby, you can find shops, restaurants, and pedestrian walkways along Plaza Tapatía, enhanced by its own monuments, markets and galleries.
Guadalajara is a big city that offers a variety of activities of cultural, dining and shopping experiences, modern first rate hospitals, attractive golf-courses and a number of exciting outdoor and recreational activities. Everywhere you go there are magnificentbuildings and historical sites.
Although Guadalajara Mexico is not directly on the coast, travelers can get to the beach for a day trip if they like. Most retirees tend to head to the quaint, traditional towns that border Lake Chapala, only about an hour's drive away.

Visit a new section on my website devoted to Vacation Destinations

From Retire to Guadalajara to Retire to Mexico

From Retire to Guadalajara to Home