Retire to Merida Mexico
Amid Mayan Ruins
Merida is the capital city of the Yucatan, east of Campeche on the Yucatan Peninsula.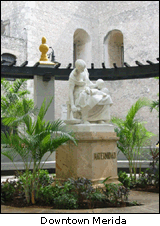 It rests in a colorful region, amid ancient Mayan ruins that are very accessible. With over one million residents, it offers a mix of colonial history and a cosmopolitan Caribbean lifestyle.
Merida is not only a unique city, but one that has become known as "a people city." In fact, it is ranked #2 among the most livable cities in Mexico. Its popularity is based on its cuisine, entertainment, and its plazas – each of which are distinct from the other. It is also known for its fine schools, colleges, and universities.
Some have noted that it is similar to the French Quarter; but cleaner and safer. Others have stated that it is like Sante Fe; but cheaper. The street life offers a bohemian-like way of life.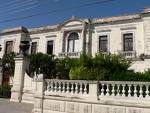 Health - Merida
If you are concerned about healthcare, it should be noted that there are excellent healthcare facilities such as the Clinica Merida, and the Star Medica, which has state-of-the art diagnostic and laboratory equipment.
This unique city is affordable as well. You can purchase a home in Centro for approximately $100,000, or you can live in one the beautiful suburbs for $60,000.
Retiring in Merida can be very enjoyable with a city so rich in culture and entertainment activities. There are plays, ballet, and the symphony. In addition, the Gran Plaza is the largest shopping mall with two more emerging.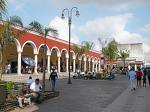 Merida Mercado
You will find that it has many ecological and Mayan pyramid and ruin sites throughout the entire Yucatan peninsula. The oceanfront villages and cities are located within short drives on the Gulf of Mexico as well as the Mexican Caribbean side. The city itself is not on the ocean, though the drive is only about 20 minutes.
There are a variety of reasons why there has been an influx of people choosing to retire to this aea over the past several years. Pension goes much further on a month to month basis, the climate and nature of Merida is a very attractive feature, and the large and growing foreign community has made the transition exciting. . Many retirees are discovering this city as one of the ideal places to retire in Mexico.
---
---
to
Ideal Places to Retire