Northern California Retirement Communities Offer More Than Good Weather

Northern California includes the cities of San Francisco, Oakland, San Jose and Sacramento, better known as The San Francisco Bay Area.
Cost of Living in Northern California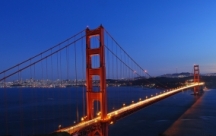 California accounts for over nine percent of the entire U.S. population. The median household income in Northern California is $73,000, the highest of the four regions in the state. Home prices are the highest with a median house price of $400,000 compared to $250,000 in Southern California.
A primary advantage of Northern California retirement communities is the local agriculture, which lowers the cost of vegetables, fruits, dairy and whole grains, plus the produce is fresh. A gallon of milk is $3.07 and a dozen eggs run $1.99. Fuel is $2.93 per gallon.
With so many options to choose from, it can be difficult to narrow down your choices. Here are some of the top rated communities in Northern California.
Stoneridge Creek Campus
Located in the city of Pleasanton, a suburb in the San Francisco Bay Area, Stoneridge Creek Campus should be one of your considerations when deliberating which of the Northern California retirement communities to live in. Stoneridge is nearly 50 acres filled with green space and a beautiful environment.
It offers hassle-free living with your choice of a villa or an apartment. Each unit has a modern kitchen and state-of-the-art appliances. If you don't feel like cooking, you have restaurant dining right outside your door, either formal dining or at the clubhouse lounge.
Each home has regular housecleaning, flat linen service, transportation services and 24-hour emergency call response.
Stoneridge Creek Activities and Amenities
No matter what your interests are, Stoneridge has you covered with a full menu of activities:
State-of-the-art fitness center and spa
Indoor and outdoor pool, sauna and Jacuzzi
Tennis courts
Short-game golf course
Bocce ball and shuffleboard
Croquet and horseshoes
Walking and cycling trails
Dog park
Woodworking shop
Garden center
Library, computer lab and business center
Billiards and card rooms
Movie theatre
Art studio
Performing arts theatre
Guest lecture series
Dance lessons
Travel groups
Book clubs
Theatrical productions
A few of the adventures outside of the community include: historic Downtown Pleasanton, local vineyard tours, community playhouses, shopping malls, fairgrounds, top golf courses, concerts in the park, sports venues, theatres, and museums.
Sun City Lincoln Hills
Sun City Lincoln Hills should also be one of your options when contemplating which Northern California retirement communities to live. Sun City has the largest adult community in California. With over 6,000 homes in a community spread across almost 3,000 acres of beautifully landscaped terrain northeast of Sacramento.
There are over 40 floor plans in Sun City that range from 858 to 3,216 square feet. Home buyers can choose from a wide variety of styles and options that include mostly single family homes and an assortment of villa ranch town homes.
Sun City Lincoln Hills Amenities
The centerpiece of Sun City is a 68,000-square foot recreational center called Orchard Creek Lodge. It boasts:
Indoor and outdoor pools
Fitness Center
Indoor walking track
Numerous activity rooms
Billiards
Ballroom with an entertainment stage
With these features your Northern California retirement communities' research is complete. You have 19 hiking and biking trails that meander over acres of rolling hills, creeks and parks. Golfers of all skill levels will relish the 36-holes of championship golf in Sun City. The Orchard Course and the Hills Course boasts well-manicured fairways and are framed by pine, oak and redwood trees.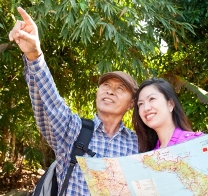 There is a bar and grill on the grounds, which is open seven days a week, offering breakfast, lunch and dinner menus and there is also a café at the Kilaga Springs Lodge. The Kilaga Springs Lodge has over 40,000 square feet of space which includes a spa offering massage therapy, nail care and facial treatments.
Sun City Lincoln Hills homes range in price between $100,000 and $1 million, making it affordable for every budget and the age restriction is 55 plus.
Rossmoor Community
Rossmoor is one of the Northern California retirement communities for you to consider. Located in Walnut Creek, Rossmoor is an award-winning active adult community with an age-restricted community, open to residents 55 and up.
Rossmoor is centrally located in Contra Costa County, 26 miles from San Francisco. The living options for Rossmoor include: condominiums, single-family homes and co-ops.
All of these choices have a variety of architectural styles. The surroundings have matured trees and natural open spaces. 40 percent of the homes are garden-styles duplex to four-plex houses. There are also 63 luxury detached houses and the rest of the community's homes are units in mid-to-high rise buildings.
Rossmoor Amenities
A few of the Rossmoor amenities include:
Five clubhouses, each one offering meeting rooms, crafts and hobby studios
Swimming pools
27 holes of NCGA-rated golf
18-hole, par 72 course covers 6,177 yards
9-hole course spanning 3,088 yards for a par 36
Driving range
Tennis courts
Recreation department for: weekly lunches, parties, classes, and holiday programs
The price range for Rossmoor is between $200,000 and $700,000.
California Programs for Seniors
Northern California retirement communities are ideal for active adults wanting to live in a thriving community with many social opportunities. Social clubs, movies, lunches, classes and excursions will keep you busy and enjoying your retired life.All of your options understand the importance of both a healthy body and mind.
The California Office of Counseling provides residents with services and community support with special programs such as the Volunteer Exchange, The Friendly Visitors blub, and Alzheimer and Bereavement support groups.
The state offers a full array of human services programs for seniors.
A few of the programs include:
Adult Protective Services
Caring Calls
Health Insurance Counseling
Property Tax Assistance
Meals on Wheels
No matter which of the Northern California retirement communities you prefer, you will have a Mediterranean climate with warm to hot summers and cool, but mild winters. There are state parks, smaller town parks and other outdoor recreational facilities throughout The San Francisco Bay Area.
Although the Northern California's cost of living is at the high end in the U.S., the costs are similar to Chicago and Manhattan. So enjoy the farmers markets, the wonderful diversity of people and landscapes in one of the Northern California retirement communities.
Return from Northern California Retirement Communities to The Best Places to Retire Home Page