Obama Express
from Philladelphia to Washington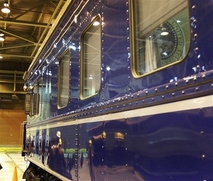 President-elect Barack Obama is in Philadelphia as he prepares to board the "Obama Express" headed for the Inauguration.
January 17, early morning he'll board a train to Washington where he will be inaugurated on Tuesday as 44th President of the United States.
The President-elect made a stop in Ohio today to pitch his 800-billion dollar economic plan.
The Amtrak train starts at 30th street station tomorrow morning. It will pass through the heart of Chester, Delaware County.
The train stops in Wilmington to pick up Vice-President elect Joe Biden and his family. Then the train makes a stop in Baltimore before ending in Washington, D.C.
The rail car President-elect Barack Obama will ride to Washington for his inauguration contains the trappings of a fine hotel or yacht, with painted walls, cherry wood, brass Pullman lamps and modern amenities for a comfortable ride.
The Georgia 300, a shiny blue car built in 1930, can hold six to eight people comfortably for Saturday's ride from Philadelphia. The leased car is plush and upholstered with a kitchen and two living areas as well as a bedroom and dinning room.
Chartered by the 2009 Presidential Inauguration Committee, the special train will be operated by Amtrak and will traverse part of the rail route traveled by Abraham Lincoln to his 1861 inaugural; Obama's 135-mile tour from Philadelphia to Washington is meant to mirror President Abraham Lincoln's journey by train for his inauguration.
What are are You Looking For?
---
Return from Obama Express to History in the Making
Return to Home