Paris Tennessee
Great Place for Single Seniors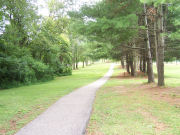 Experience Paris, Tennessee. As a single senior, wouldn't you love to retire to a city where people care about other people; offer an outstanding lifestyle; a myriad of recreational activities; a mild climate; affordable housing; and is named after the most famous city in the world?
Here are 5 Reasons Single Seniors Should
Retire to Paris Tennessee
1. Retirees, specifically, baby boomers flock to Paris because it has one of the largest man-made lakes in the world. Even though it is a small town with lots of charm, it is nestled in northwest Tennessee, 15 miles from the recreation area. Among the many outdoor activities available are: fishing, boating, hiking, and camping.
2. What amenities does Paris offer? Lakeside living; a lively downtown area; the World's Largest Fish Fry; arts; barbecues; shopping; dining; and it's only two hours away from Nashville – the country music capital of the world!
3. If you want to know who retires to Paris, here is the answer. A retiree who loves living on the shore of the lake; enjoys an active lifestyle; prefers a small town with friendly people; and wants to move to an area with a low crime rate.
4. Another reason to choose Paris as your new home is the cultural environment. With Nashville just 90 minutes away, Memphis about 130 miles away, Paris has a Performing Arts Center, world-class musicians and artists, offers dancing lessons, shows and concerts; an annual Arts Round the Square; and parties galore!
5. Retiring to Paris, Tennessee affords you the luxury of living in a small town where the people are friendly and offer a community-like atmosphere. Living on the shore of a lake isn't bad either!
Single seniors who move from big cities may be totally attracted to small town life. Paris, Tennessee gives you a feeling of belonging and a lifestyle that is commensurate with your own.
Single seniors will find Paris a breath of fresh air! You will meet new people, form relationships; and enjoy all that Paris and its surrounding cities have to offer. A retiree went to Paris to check it out as a place to retire. After seeing the downtown and courthouse square – the retiree put a down payment on a home.
By the way, you can find restored homes for about $250,000, and the homes in town are about $100,000. But in today's market – you might just get lucky!
Check out Paris, Tennessee. You never know what magic is around the corner; around the block; around a new city! Retire to Paris and live, live, live!
---
---

From Paris Tennessee to Great Places for Single Seniors