Retire in Iowa
Best City for Arts and Music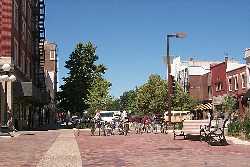 Retire in Iowa City, one of the best places to retire for arts and music! Every year, US publications will tout its high quality of life.
Iowa City is a literary and cultural town. The city's lively downtown shopping district is home to Literary Walk, a series of bronze panels set in the pavement featuring quotations by the many well-known poets, novelists, journalists and playwrights who have called Iowa City home. How terrific is that?
Retire in Iowa City and you can visit the University of Iowa Museum of Art, which has been touted as a visionary achievement. There are seven galleries representing a collection of 12,000 works of art including, but not limited to:
Picasso, Matisse, Girs and Chagall. In addition, Hancher Auditorium offers a wide range of programs to the city. The 2,500-seat auditorium attracts audiences with music, dance, theater and speakers from around the world.
Iowa City offers dozens of low cost or free classes, clubs and lectures at the 25,000-square-foot Senior Center next to the downtown pedestrian mall. Everyone is warm and welcoming, according to retirees who relocated there. In fact, the University of Iowa offers more than just clubs and classes; its hospital provides some of the best medical care in the region, and the Big Ten sports teams draw fans of every age.
Although the weather can be severe at times, many retirees say they love the four distinct seasons.
State taxes are high, but the sales tax is 5%. Overall, however, the low cost of living in this top ranked city easily makes up for it.
You may want to take a few hours to research Iowa and its cities and infrastructure. Where to retire is the most important decision you will make; therefore, the more you know the better prepared you will be to choose the right place.
You may choose to retire in Iowa City and honestly, it happens to be the best place to retire for Arts and Music! opens to a new page
Cheapest Places to Retire Best States to Retire

Countries to Retire Retire to Colorado
What are are You Looking For?

Return From Retire in Iowa City b> to Home