Retire to Bloomington
Home of Indiana University

Retire to Bloomington, Indiana which is known as the "Tree City." Bloomington is home to Indiana University, which is considered one of the most beautiful campuses in America.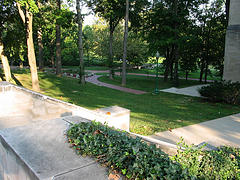 This college town has become a boom for retirees.
Not only was Bloomington voted as the top place to retire, but was also voted as the least stressful city in the U.S. In addition, it was voted as the all American city due to its high quality of life. It is known for its small town charm while, at the same time, offering amenities you would find in larger cities.
Retire to Bloomington, Indiana and you will be surrounded by three lakes, three state parks, and two state forests. Nature lovers will become mesmerized by the beauty of Indiana National Forest as well. This lovely city not only has a variety of recreational activities, but is well known for its beautiful fall foliage as well as its blooming spring. As a matter of fact, legend has it that the town was named by a gentleman who was standing on a hillside overlooking the flowers blooming in the spring and thus named the town, Bloomington.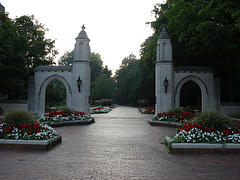 If you are concerned about taxes in Bloomington, don't worry. It has the lowest per capita tax in Indiana. Along with its affordable housing, this is a fantastic place to live comfortably and easily, which is yet another reason to consider Bloomington , Indiana.
Recreation in Bloomington comprises a variety of opportunities. If you are a sports enthusiast, you will be able to engage in fishing, hiking, biking, swimming, boating, golfing, horseback riding, and skiing. For music lovers, it offers a world class opera house and Broadway shows. In addition, it has a wide variety of restaurants, shopping, museums, art galleries, the Fine Arts Plaza where you can view the famous sculpture "Birth of Venus" and all of the amenities you would expect a college town to offer.
Modern, yet quaint, retire to Bloomington, Indiana and you will find it is the ideal place.

From Retire to Bloomington, IN b> to College Towns