Retire to Buffalo, New York

Consider Buffalo, New York, as one of the cheapest places to retire with the lowest income tax rate between 4% and 6%;


this alone as a retirement tax break, should be a high consideration for an ideal place to retire. According to Money Magazine in 2006, "Buffalo is one of the best places to retire". The city of Buffalo is also the sixth least expensive housing market in the country.

In addition, Buffalo is renowned for Good food. Fine music. Great architecture. Art. History. Professional sports. Theater. Pubs. Friendly people. Moreover, you are close to Niagara Falls and Canada as well. Niagara Falls, that world-famous natural attraction, is less than a half-hour away.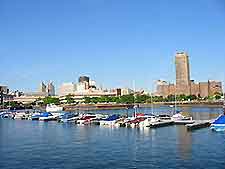 Rich in arts and culture, here is a list of what you have to look forward to as a resident of Buffalo: the Buffalo Philharmonic Orchestra; Shea's Performing Arts Center; six theaters; Shakespeare in Delaware Park; Amherst Saxophone Quartet; Buffalo Choral Arts Society; three art galleries including; the Buffalo Museum of Science; and five festivals.

Buffalo has a plethora of unique and interesting architecture and landscapes including: Frank Lloyd Wright's Darwin Martin House; - Buffalo Niagara, American Masters. America Treasures; Louis Sullivan in Buffalo; Fredrick Law Olmsted Parks; E.B. Green and UB's Main Street campus; New York Central Terminal; Japanese Garden in Delaware Park; and the Buffalo Convention Center. More than enough activities to retire to Buffalo, one of the cheapest places to retire. In addition, Buffalo has over two thousand restaurants; public golf courses; libraries; museums; and colleges; if you love to ski, the nearest resort is only within 100 miles.
There are a variety of retailers located throughout the city's special, historic, multicultural environment to satisfy the shopping needs of consumers. Each of the city's districts has its own unique ambiance to pique shopping interests. Retire to Buffalo, New York, and discover all their great restaurants, it has a rich abundance of authentic, ethnically and culturally diverse restaurants; restaurants have a broad range of fine dining and casual atmospheres at affordable prices; and restaurants allow city residents and visitors the opportunity to enjoy Buffalo's unique urban character, including its architectural, arts & cultural, as well as downtown and neighborhood environments.

You will feel right at home in Buffalo, as the four seasons offer you plenty of recreations activities. In fact, Buffalo was voted as among the top five cleanest cities! Now that's a plus! This is certainly an ideal place to retire especially since you are so close to world-class attractions like Maid of the Mist and the Cave of the Winds. The short 20-minute drive from downtown Buffalo to Niagara Fall is also a benefit!

Here is a site devoted to the architecture and art attractions of Buffalo, New York. Read more about this outstanding city,

From retire to Buffalo to Cheapest Places to Retire

Return From Retire to Buffalo b> to Home