Retire to Coeur d'Alene, Idaho
Four Seasons of Natural Beauty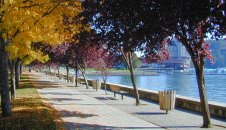 Retire to Cœur d'Alene; listed as the most popular retirement community, Coeur d'Alene is most affordable, has a wide variety of activities, and its cultural ambience has exceeded the expectations of retirees who have moved there.
Lake Coeur d'Alene is home to the celebrated osprey, and every year you can join local residents who welcome them home. Moreover, if you are a nature lover you will be enthralled by the site of bald eagles feeding on salmon every year.
Coeur d'Alene has the finest shopping and dining. Their cuisine has been touted as the best along with the chefs who offer award winning menus. Whether you collect antiques or just love to stroll through malls, downtown Coeur d'Alene offers you the best of both worlds and find this beautiful city is also the cheapest place to retire.
With galleries hosting paintings from Famous artists, you will become infused with this city's art and cultural history. In addition, you can participate in the many offers festivals, concerts, fairs, and much more. Coeur d'Alene is famous for having the world's only floating green.
While you'll never miss the four seasons in Coeur d'Alene, its residents and the natural beauty of Lake Coeur d'Alene more than make up for those cold wintry months. Take a few moments to research this popular town and you may come to the same conclusion as those who have relocated there – Coeur d'Alene is not only one of the cheapest places, but is the ideal place to retire, among any city in the US.
---
What are are You Looking For?

From Coeur d'Alene to Idaho State

Return From Retire to Coeur d'Alene b> to Home