Retire to Marietta Georgia
Rich in History
Retire to Marietta, Georgia named not only one of the top ten communities in Georgia but the most livable city as well. With the current flux in today's market, finding affordable housing is on everyone's mind.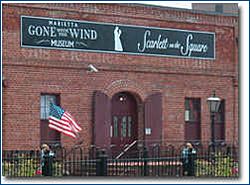 In Marietta, you can be assured of a strong economy which is evidenced by its on-going housing construction and low unemployment. Sources in Marietta state that "owning a house in Marietta is a sound investment."
There is more, however, to this community in Cobb County which is home to a population of over 60,000. Its arts and culture encompasses Marietta Square, live theater classical concerts, and the Georgia Ballet. In addition, you will want to visit the Gone with the Wind Museum which contains memorabilia from this 1939 classic movie. In addition, there is the Kennesaw House, and the Marietta Museum of History incorporating Civil War memorabilia as well.
Retire to Marietta and enjoy the Farmers Markets, and haute cuisine of every ethnicity which you can find among the fifty restaurants in this community. If you love antiques, you will love Marietta. There are a variety of antique stores sure to please even the most discerning of collectors. Only 17 miles from Atlanta, you have the best of both worlds. There are a variety of malls and stores in Cobb County, thus you will never run out of places to shop.
Marietta prides itself on its Southern hospitality and charm. Its scenic beauty and wonderful climate is ideal for retirees who wish to relocate to this community. When you think about retiring to another city, it would be well worth your while to visit the location several times. In this way you can become familiar with the neighborhoods, people, and way of life. However, you need only visit Marietta one time to know this is the ideal community to retire.
Experience this wonderful community, affordable housing and its rich history, art, entertainment, cuisine, shopping, and especially the town square - where all roads lead to an abundance of cultural activities. Visit the Marietta Welcome Center
---

From Retire to Marietta Georgia to Community to Retire