Retire to Oxford, Mississippi
In The Midst of Ole Miss

There are many benefits if you retire to Oxford Mississippi. Recent reports on retirees suggest that not only are they retiring to college towns, but places in which taxes are low and the quality of life is high.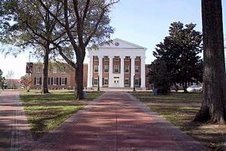 Oxford, Mississippi is among the top college towns as an ideal place to retire. With a population of approximately 12,000, Oxford offers retirees all of the amenities they are looking for to enhance their lifestyle.
With its shopping, galleries, restaurants, historic landmarks, and culture – Oxford, and specifically Lafayette County, has been touted as a place filled with recreation, performing arts, museums, and quaint neighborhoods which epitomize its Southern hospitality.
Among the highlights of Oxford is the Courthouse Square in which you can walk the same paths as such well known authors as William Faulkner, John Grisham, and others who lived in Oxford and became the backdrop for so many of their stories.
Oxford, Mississippi offers a rich history and diversity which makes this particular community so unique. Recently, it has been named as the retirement community by the Mississippi Hometown Retirement Program. It has been the subject of many articles in well-known magazines and, as mentioned earlier, is the ideal place for retirees to live.
Anyone can participate in the Oxford Conference for the Book which is held every April, or enjoy the Double Decker Festival in the town square as well. The farmer's market is open from May through September where you can purchase home grown produce. In addition, July offers residents the opportunity to participate in the Faulkner and Toknapatawpha Conference. There is plenty to do in Oxford and not only that, no matter what your interest – you will always find it sated in this wonderful town.
Retire to Oxford and find its excellent health care system, fine dining and shopping, crafts, music, and its quaint town square, this college town has become more popular than ever. Its Southern charm, combined with its unique historic background, makes this city the Ideal Place to Retire.


Return From Retire to Oxford, MS b> to College Towns

Return From Retire to Oxford, MS b> to Home
---
What are are You Looking For?
---