Retire to Sun City Arizona
Great Community Living
Retire to Sun City and be part of the memorable celebration of
its Golden Anniversary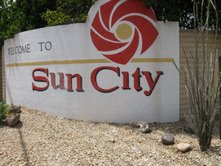 Do you remember the news in 1960 surrounding a master-planned community built specifically for active adults?
Were you there when The Del Webb Development Company opened the six model homes January 1, 1960? Sun City initial success earned national attention.
The community was highlighted in newspaper and magazine articles throughout the country, featured on the national news, and profiled on TV shows. Del Webb was even featured on a 1962 cover of Time magazine. Sun City, Arizona was the first community of its kind in the nation.
Sun and fun may have been the initial attraction to retire to Sun City many years ago, but the strength of Sun City's residents and their enduring ability to take care of one another may be the key to the community's continued success—and the primary difference between it and all those since, that have tried to imitate Del Webb's vision.
Ever since that day, new places to retire continue being built everywhere; Del Webb is actually now a part of Pulte Homes and are not just known to Arizona; today there's a greater variety of places than ever; from the single Sun City in Arizona, the Del Webb family now numbers more than 5o communities in 20 states across the US.
Sun City is a self-contained community that lacks the majority of stress that a normal community would have. You will not see traffic jams; golf carts are legal to drive on the streets of the city and that is often what people use to ride around town.
Sun City is also home to a number of fine medical facilities. Here you will find many caring and skilled physicians ready to help you at many levels. Additionally the community hosts many fine care facilities, physicians, and treatment centers to meet your medical needs.
From bowling and golf to swimming and crafts, the recreation centers offer a wide range of amenities and activities; with seven recreation centers, eight golf courses and more than 120 chartered clubs, there's something for everyone to participate.
Volunteering and community activities are strong in Sun City. It is a place where you can partake in a wide variety of interests and arts-related clubs. Retiring to Sun City is an ideal adult community where all residents can be as active as they wish.
---

White Tank, a beautiful mountain park, located a few
miles from Sun City offers a number of outdoor
recreational activities. Click here to learn more.
---
Find Other Sun Cities!
---
GO TO Arizona Cities
Communities to Retire
Best States to Retire
Return to Home
---