Retire to Uruguay for the Beaches and Moderate Cost of Living

If you choose to retire to Uruguay you'll enjoy the waves crashing up on the sand and the remarkably affordable cost of living. Montevideo is Uruguay's capital and is made up of many interconnected but distinct communities with tree lined streets, neighborhood shops and outdoor cafes. Montevideo has a wide seaside walk, great restaurants, theater and several tango clubs. Montevideo is the second least expensive city in the world.
Where is Uruguay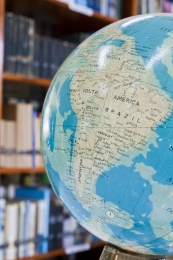 Retire to Uruguay, a country in the southeastern part of South America. Home to 3.5 million people, 88% of the population is of European descent. Uruguay's only land border is with Rio Grande do Sul, Brazil to the north. To the west lie the Uruguay River and the estuary of the Rio de la Plata to the southwest. To the southeast lies the southern part of the Atlantic Ocean. Uruguay is 68,000 square miles and the second-smallest nation in South America.
Living in Uruguay
If you retire to Uruguay, you'll live in one of the most economically developed countries in South America, with a high GDP per capita and the 48th highest human development index in the world as of 2011, and the first by human development in Latin America, when inequality is factored. Uruguay is noted for its low levels of corruption, being ranked at the second least corrupt country in Latin America, behind Chile.
Cost of Living in Uruguay
As you prepare your budget to retire in Uruguay, here are some examples of the monthly living expenses:
Rent $500
Electricity $100
Gas for cooking $9
Water $17
Sewer $15
Internet $46
Landline phone $12
Cell phone $20
Cable TV $76
Health insurance $76
Food $300-$500
Landscaping (twice monthly service) $50
Pet food $100
Car insurance $10
Car licensing and real estate taxes(once a year) $105 and $525, respectively
Why You Might Choose to Retire to Uruguay
Uruguay, the small South American country, is famous for its beach resorts and is attracting attention as a great place to retire.
A few of the reasons to retire to Uruguay:
Uruguay is safe – the lowest rate of crime in Latin America.
Uruguay is stable – one of the most politically and economically stable countries in South America.
Uruguay does not tax foreign source income – meaning your pension, social security and all money that is generated outside of Uruguay is not taxed.
Good medical care is available in Uruguay – the country has private hospitals that provide excellent patient care at affordable rates. Some retirees pay out of pocket for the care they need and others purchase health plans with a fixed monthly fee.
Uruguay has a comfortable climate – located in the temperate zone of the Southern Hemisphere and has four seasons. Daytime temperatures average 70 to 80 degrees in the summer and 50 to 60 degrees in the winter.Uruguay does not have hurricanes or earthquakes
Beach life – retire to Uruguay for the 200 miles of beautiful coastline that turns into a vacationland during the summer. The coast is dotted with resorts including the continents premier beach resort, Punta Del Este.
Country life – once you leave the coast, most of Uruguay is green rolling prairies. The country has large estates (called chacras), ranches (called estancias) and several agricultural support communities, most with a town square (plaza) where people come in the evening to socialize.
Retire to Uruguay for the modern, first-world infrastructure – Uruguay has good roads, safe drinking water, good public transportation, broad cell phone coverage and widespread availability of high-speed internet.
The people of Uruguay are well educated and friendly – Uruguay has the most highly educated population and the largest middle class in Latin America. The people of Uruguay are generally friendly and tolerant with a strongly European culture.
Uruguay has a reasonable residency procedure – when you retire to Uruguay applying for residency includes a criminal background check, a health checkup and a verification of a regular source of income, such as social security or a pension.
During the high season, Uruguay is fun and lively. During the low season, it is quiet and peaceful. The only negative to Uruguay is it may be too slow for some retires during low season.
Political Conditions in Uruguay
It's political and labor conditions are among the freest on the continent. Reader's Digest ranked Uruguay as the ninth most livable and greenest country in the world and first in all other America's.
Uruguay has enjoyed friendly relations with the U.S. since its transition back to democracy. Commercial ties between Uruguay and the U.S. have expanded substantially in recent years, with the countries signing a bilateral investment treaty. The U.S. and Uruguay have also cooperated on military matters.
Uruguay Cuisine
When you retire to Uruguay, your taste buds will thank you. A few of the local favorites include:
Parrilla foods – consist of red meat, chicken or pork; vegetables and stuffed potatoes; everything is cooked on a grill over wood coals
Brasero – is a form of barbeque made of either tender cuts of steak, flank steak, fillet or pieces of chicken.
Sausages – flavored with raisins or savory, served alongside grilled kidney, intestines and sweetbread
Postre Gaucho – is one of the favorite desserts, cheese and thick quince paste
Flan con dulce de leche – is a sweet custard with caramel sauce, sure to satisfy most anyone's sweet tooth
Little Known Secrets About Uruguay
Retire to Uruguay for a prevalent part of life in Uruguay, the horses. Gauchos working in the Uruguayan countryside still use horses to move cattle and mend fences. Recyclers in Montevideo use horse-drawn carts to collect and move their goods. Besides that, there are hundreds of horse competitions and events each year including a variety of riding competitions, rodeos, horse races, polo tournaments, group trail rides, shows, and auctions.
Even the Uruguay airport is one of the 10 most loved airports in the world. The airport's beauty, cleanliness, and efficiency, and its appearance as sleek, glassy and curvaceous. The airport has an air of sophistication.
Retiring to Uruguay
In the last couple of years the annual number of applications for Uruguayan residency has increased more than 300%. Uruguay provides the opportunity for a retiree to live a quiet life. It is a free country out of the spotlight of major world controversy.
You can go biking into the sunset; enjoy the local fare, the beautiful beaches and warm climate. If you aren't ready to retire to Uruguay, consider purchasing a second home instead. Uruguay offers the best value for your second-home dollar.
Return from Retire to Uruguay to The Best Places to Retire Home Page