Retire to Yuma, Arizona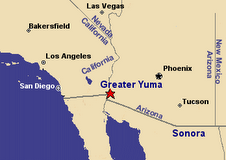 Retire to Yuma, named as one of the best places to retire by Money Magazine in 2006. It is located in the Southwestern corner of Arizona close to the border, with California to the West and with Mexico to the South. Living close to the Mexican border offers a great opportunity to experience multi-cultural and international business opportunities.
With a climate that mixes pure desert sunshine with the cool waters of the Colorado River and Gila Rivers, Yuma offers residents and visitors alike a year round vista of surrounding rugged mountains and green agricultural fields.
Yuma's progressive agricultural industry provides 90 percent of the nation's winter vegetables sold in the United States. It is one of the hottest cities of any size in the United States; conditions are perfect for growing vegetables.
Yuma County has a wide variety of arts and cultural events throughout the year. If you are interested in crossing the border to experience Mexican cuisine, music and shopping; the St Luis border is a just a 25 minute drive south.
Visit Yuma County Chamber of Commerce Web Site, it provides individuals and businesses information on the recreational activities and cultural attractions.
Yuma combines small town friendliness with big city capabilities by providing many activities and various types of entertainment for everyone; the many outdoor recreations; including golf, tennis, fishing, hunting, boating, swimming, and rock hounding to mention a few.
Popular Yuma Park 'N Swap offers a great place to enjoy the beautiful weather with family and friends; incredible bargains on thousands of items from hundreds of vendors; could be a great place to start or expand your own business. Join thousands of shoppers and enjoy the free entertainment at Park 'N Swap.
Rapid population growth and its popularity among retirees and winter visitors mean a lot about quality of life in this area. Retire to Yuma, located on the Colorado River, it offers some of the most affordable housing in the state, and one of the cheapest places to retire.
---
---
Click here for more Arizona cities