RV Retirement Parks for Those Looking for Adventure

More and more of the 55+ crowd are discovering retiring to one of the hundreds of RV retirement parks around the country. With 'RVing', you can choose where you want to go, when you want to go and what you want to do. Relax in Arizona during the perfect winter months and escape to cooler climates in the heat of the summer. That's the beauty of RV retirement, you can get up and go whenever you like.
The RV Life for Newbies
If you're contemplating RV retirement parks, you'll want to select an RV that will meet your needs. An RV normally includes a kitchen, bathroom, bedroom and living room.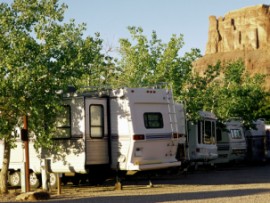 You'll want to keep in mind the amount of storage space, cabinets, counter space and the bathroom set-up: how the toilet, vanity and shower are situated.
There are three basic types of RVs:
Motorhomes – includes bus conversions; motorhomes are your vehicle and living quarters combined.
Travel Trailers – also known as towable; travel trailers must be towed by a separate vehicle.
Truck Campers – living quarters that sits in the back of a pick-up truck.
Motorhomes
Motorhomes are divided into classes:
Travel Trailers
Travel Trailers include true trailers, fifth wheels, pop-up campers, and all others that are towed. Though there are full-timers in all shapes and sizes of towable RVs, only travel trailers and fifth wheels are practical for long-term living for the majority of people.
Travel Trailers are largely trailers towed completely behind a tow vehicle. They are hitched to the back of the tow vehicle which can be anything that has enough power to pull the trailer.
Fifth Wheels are trailers that have a gooseneck front section that extends over the bed of the pick-up trucks tow vehicle. The hitch is located in the center of the truck bed, so fifth wheels can only be towed by pick-up or flatbed trucks.
Budget Considerations for Living in a RV Retirement Park
If you are considering retirement parks for your new active life, you will want to live in the RV full-time. You should probably buy the largest one you can afford. Budget and personal preference may determine whether you buy new or used. You have to weigh reliability, warranties, and the features you want against price.
A few of the unique financial implications of RV living include:
RV owners can take advantage of tax breaks: a recreation vehicle is the ticket to get away from the stress of everyday life; and, what most people don't know is that it is also a way to get a little bit of relief from today's high taxes. Owning recreation vehicles saves on taxes and keeps more money in your pocket.
For a vehicle to save money at tax time, it needs to pass the test of being a second home. To be considered a "second home," an RV needs cooking, sleeping and bathroom facilitates

Virtually all RV types: motor homes, travel trailers, truck campers and even some folding campers-may be equipped with these facilities. Tax savings depend upon the monthly loan payment, the length of the loan and the interest rate.

Getting a loan for an RV is easy because recreation vehicle owners are considered good credit risks. In fact, less than 1.35 percent of all RV loans are delinquent. Lenders consider RVers to be reliable buyers, another advantage for consumers.
Loan terms for both new and used, large RVs typically extends up to 15 to 20 years. Whether the purchase is financed through a bank or credit union, the average minimum down payment amount is 10 percent. This makes it easy for a retired couple to get into the RV lifestyle economically.
Many retirees have a limited pension. Fulltime RV living enables you to save a considerable amount of money. While travel expenses are quite high, many other expenses are much lower than average. It has been estimated that a couple living full time in an RV could live comfortably on a $40,000 a year. A couple that really wants to live on less could do so on half of this amount with careful budgeting.
Suggested Parks
RV retirement parks offer unique opportunities for fun and adventure that are tough to find anywhere else. There are three types of RV facilities: RV parks; RV resorts and RV campgrounds.
An RV park and RV resort are privately owned and have full hookups. A campground is usually a part of a national park and is in more rustic settings.
When you're considering RV retirement parks, some of the most popular options include: Arizona, California, Florida and Nevada.
Arizona has mild winter climate making Arizona RV retirement parks among the top retirement destinations. Arizona has a large group of Arizona active adult communities.
All of the Arizona RV retirement parks provide oversized back-in lots with full hook-ups, accommodating RVs up to 45 feet (Class A & Class C), trailers of 26 ft. length and more are welcome, along with 5th Wheels of the same size.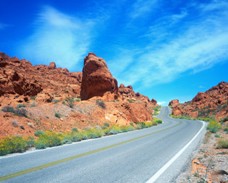 California has more to offer in one package than any other state. From mountains to seacoast, deserts to lush forests. California is a land of dizzying contrasts. It could take several lifetimes just to see all of it.
Florida's RV retirement parks include gated communities and offer the freedom and camaraderie of the recreational vehicle lifestyle. Some of the RV retirement parks are deeded lot development with a unique land use plan and recorded restrictions, which make Florida a popular choice.
Nevada RV retirement parks offer high quality resort communities in the U.S. Few places on earth rival South Lake Tahoe for unspoiled beauty, making it a natural choice for people who love to explore the great outdoors.
Tips for Living in RV Retirement Parks
You want to keep a few things in mind as you select your RV retirement park:
RV spaces; park rentals; RV boondocking
Nearest medical facility
Insurance
Seasonal or year round
Laundromat
Water Source and drinking water connection
Sewer connection; dump station
Pets allowed
Solar ovens
AC power connection
Internet Access (Wi-Fi); television connection and telephone connection
Living in one of the RV retirement parks full-time you'll be making significant lifestyle changes.
RV retirement parks are chocked full of activities and opportunities to meet other retirees. RV retirement parks let you stay anywhere you want with any setting, amenities and aesthetics you prefer. The extensive activity and quality of amenities for active adults are what you deserve in your retirement life.
Activity Options
Each day of living in one of the RV retirement parks across the country will be filled with any type of activity imaginable. Remember when you use to say, "That looks like fun, someday I want to try that."
Now you have the time and accessibility to try all of those fun things you've always wanted to do.
Art classes, photography, stained glass classes
Bingo, cards, cribbage, bocce courts, billiards room
Golf, fishing, hiking, walking paths
Quilting, sewing, woodcarving classes
Swimming pools, hot tubs and saunas
Exercise classes, volleyball
Libraries and, computer labs
RV retirement parks mean an active adult retirement. You will have your preference of leisure interest and if this list still isn't enough options for you, you can also participate in campfire socials, potluck dinners, Bible study groups, choir, planned tours, motor coach excursions and shopping trips.
Return from RV Retirement Parks to The Best Places to Retire Home Page