Retire to San Jose Costa Rica
Cosmopolitan Capital
Retire to San Jose, the capital and largest city of Costa Rica, located at an altitude of 2,900' feet above sea level.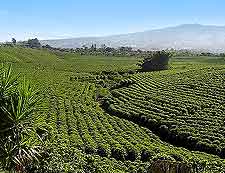 Surrounded by mountains it is Costa Rica's primary agricultural region as the rich volcanic soil makes it ideal for growing almost anything including what is, arguably, the best coffee in the world.
Temperate weather is one of the area's main draws. For those who don't do well with heat or humidity, the Central Valley mild and dry climate is a godsend; it offers a spring like climate year-round, it never gets very cold or very hot, temperatures average mid-70s Fahrenheit.
The capital city of San Jose is the nation's undisputed political, economic, and cultural center. Here is where you'll find the museums, the theaters, the government buildings, and the University of Costa Rica, the country's largest and most important institution of higher learning.
Companies like Hewlett-Packard, Microsoft, Intel and others have found Costa Rica a most desirable place to relocate key employees and invest their own businesses. This small Central American country now exports more software, per capita, than any other Latin American country.
The outlying cities of Alajuela, Heredia, Santa Ana and Escazu are extremely popular areas for new arrivals as well as seasoned residents. These cities offer the convenience of having everything from great restaurants, top notch shopping malls, state of the art medical facilities, office buildings and great nightlife and entertainment nearby.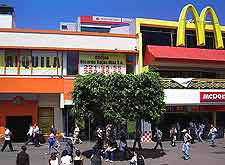 And in fact as you go down the main road into Escazu you cannot ignore the variety of stores and restaurants such as Tony Roma's, TGIFs, McDonalds, KFC, Blockbuster, Rooms To Go, and such, you have to blink twice to make sure you're not back in the USA.
Santa Ana is a great place to live as it offers a warm, dry climate year round and is near the CIMA Hospital and Medical Tower Multiplaza - Costa Rica's largest mall, Price Smart - like back in the states; the Intercontinental Hotel; Marriott Courtyard and the Comfort Hotel; the ultra modern Plaza Roble and Forum office complexes and so much more.
Santa Ana is one of San José favorite neighborhoods.

---
From Retire to San Jose, Costa Rica to Countries to Retire


Return to Home
---