Santa Fe, New Mexico
Great Place For Single Seniors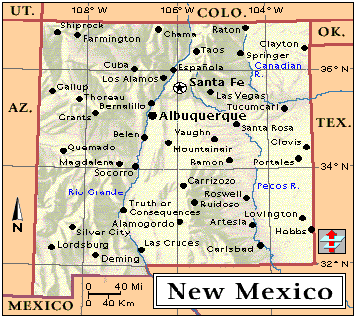 Here are 5 reasons to retire to this Great City.
1. Santa Fe is a beautiful city with a booming housing market. Of the 64,000 residents; 25,000 are over 50 years of age. Moreover, this city offers a holistic approach to healthcare, embodying the mind, body, and spirit within. It appeals to retirees who wish to maintain their active lifestyles and includes a myriad of activities that will keep you feeling energized and full of life.
2. The climate is the best you can find. Formerly called the "Sunshine State," Santa Fe boasts a sunny climate over 260 days a year. It does have its four seasons as well.
3. What attracts retirees to Santa Fe? The more than 200 art galleries, over 20 performing arts organizations, and its unique Southwest art shows held every week. Their Folk Market is well known and is a marketplace for native artists who sell their goods across the cultural spectrum. In addition, Santa Fe has a world-class opera house, symphony, live dance including flamenco; galleries, museums, and theaters. For retirees, you can enjoy taking classes on anything from southwest cooking to painting classes.
4. The restaurants in Santa Fe are superb, providing international cuisine along with the local fare that has drawn rave from visitors. The home of Georgia O'Keefe's museum, there is an abundance of activities for single seniors. A friendly city, you can easily make new friends and "establish yourself in this community." Between golfing, hiking, swimming, kayaking, or engaging in many other outdoor activities, you are bound to meet someone who has the same interests. As a matter of fact, according to the Census Bureau 46% of Americans age 65 and older are currently single, widowed, divorced, or never married. And guess where most of them are retiring to?
5. Single seniors retiring to Santa Fe have an excellent opportunity to meet new people. Check the local paper and community centers for event listings. Join churches or synagogues that run social events designed especially for singles. Take part in a new activity to meet the opposite sex. Join one of the many over 50 clubs. Walk with an air of confidence, and people will flock to the radiant energy you exude.
If you are about to retire, it would be to your benefit to check out Santa Fe. There is a whole new world waiting for you at its gate. Don't pass up this chance to become part of a culture and community that has been rated among the best in the US!
---
---

From Retire to Santa Fe to Great Places for Single Seniors