St. Armands Circle
A Unique Experience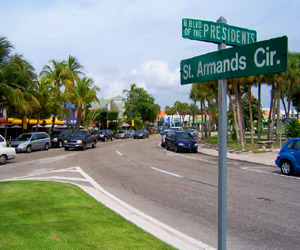 St.Armands Key is an island in Sarasota Bay off the west coast of Florida on the Gulf of Mexico. It is located only 5 minutes from downtown Sarasota and is connected to the mainland by the beautiful John Ringling Causeway.
St. Armands Circle, a shopping center with more than 130 stores. It attracts tourists and residents alike and provides an unforgettable experience for visitors from all over the world. Renowned as a market place with a continental flavor, this historical district features tropical landscaping, courtyards and patios, antique statuary, unique galleries, and outdoor cafes.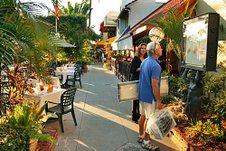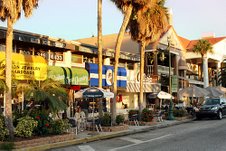 Explore exclusive shops - from trinkets to treasures, galleries, exotic boutiques; relax in restaurants and gourmet snacks to candlelight feasts, you'll find it all on St. Armands Circle. The area is famed for its home-made chocolate fudge and ice-cream shops.
An average year round 75-degree temperature makes this beautiful island very conducive for just about anything. Vacations are perfect opportunities to explore potential Ideal Places to Retire. Contact a local real estate agent or visit the Chamber of Commerce for more information.
While you're there, remember to visit The Circus Ring of Fame around the Central Park.
Return to Retire to Sarasota
Return to Florida State
Return to Home