Visit Paris For An
Unforgetable Experience
Visit Paris in April! Whether you chose walking along the Avenue des Champs-Élysées or visiting its breathtaking landmarks, or sitting at the corner café near Arc de Triomphe, Paris has something special to offer you.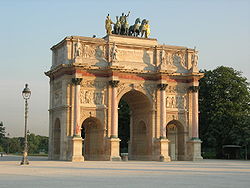 Paris, the City of Lights, is indeed the City of Love as well. Couples walk hand-in-hand, stopping to gaze in store windows, taking a picture at the Eiffel Tower, or spending a beautifully afternoon at the Tuileries garden.
There is so much to do in Paris, but you would be surprised how much you can do in a short time. With Euro rail passes, you can quickly get from one part of the city to another. Spend time at the Louvre Museum, one of the most well known art museums in the world, featuring paintings such as the Mona Lisa.
Visit the Sacré-Cœur de Montmartre, a magnificent Basilic overlooking Paris from the top of the Montmartre hill, the highest point in the city. A simple way to visit Montmartre is on Paris tour.
Spend a day at the Palace of Versailles, built by Louis XIII, and walk among the incredibly manicured gardens. It is without question, absolutely spectacular, and one of the most dazzling things you will probably ever see. Take an inside tour where you will find the famous Hall of Mirrors and other wonderful rooms as well.
Spend some time walking along the Rue de Rivoli, where some of the finest shops are located. Don't forget to stop at Louis Vuitton; it is absolutely magnificent.
There are no words to describe the hotels in Paris. If you can, stay at the George V, a short distance from the Arc de Triomphe. The George V is an old-world style Parisian hotel, with the most comfortable rooms and louver doors that open out into the garden. Complete with TV and sitting area, the rooms are quite spacious. They have a fabulous dining room and bar.
The nightlife in Paris is spectacular. From the Folies Bergère to local nightclubs offering one-of-a kind entertainment, you will feel the love exude from every part of your being. If you prefer, take a scenic boat ride, many of Paris most famous monuments are on the Seine river banks, including Notre-Dame, the Louvre and theEiffel tower.
Paris is an exciting place, filled with culture, history, and more sites than you can't imagine. You do not need a "fountain" to ensure you will return, for Paris will beckon you back to its City of Lights any season of the year.
---

From Visit Paris to Vacation Destinations
---