Washington DC
The Nation's Capital
Visit Washington DC and let history come alive
for you and your family.
While there are so many sites to visit, you probably won't be able to see them all. There will be plenty to do next time you visit the Nation's Capital. In the mean time, here are some highlights that you can choose from as you embark on this historic journey.
First, check out the many hotel packages available. One of the recommended hotels suited for families is the Hilton Garden Inn. Located minutes from the White House, National Mall, Smithsonian Museums, Metro Subway Station, National and Warner Theaters, Fords Theater, International Spy Museum, and Union Station, you will be able to rest in the hotel's deluxe accommodations.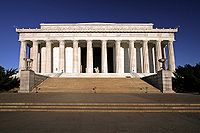 The hotel has an on-site restaurant that serves breakfast, lunch, and dinner daily. In addition, if you feel like eating in, the hotel offers microwaveable packages items which can be prepared in your room. Moreover, there are a myriad of restaurants in the area which you can visit that are located close to the hotel.
More importantly, however, is the number of venues you should visit while in Washington, D.C. Here is a partial list for your consideration:&nbsp
* The Washington Monument is spectacular and you can view the entire city by taking an elevator to the top of the monument.
* The Lincoln Monument is breathtaking. As you walk up the steps to the enormous statue of Lincoln, you will experience a chill of excitement.
* Spend a day at Six Flags America with the kids. This is an opportune time to take a rest from all the sightseeing and just have a grand time on the more than one-hundred rides and shows available.
* You may also want to sign up for a tour of Washington's home in Mt. Vernon. This very large estate is a wonderful learning experience for the kids, and will not be forgotten any time soon.
* Spend a half-day at Rock Creek National Park where the National Zoo houses over 400 species of animals and admission is free.
* Take the family to see the largest collection of spacecraft in the world at the National Air and Space Museum. In addition, there are planetarium shows and life-size exhibits that will keep your kids occupied for hours.
* Spend time looking at giant dinosaur skeletons at the National Museum of Natural History. The Hope Diamond can also be seen there as well. There is also a special room for kids where they can actually touch exhibits.
While these are just a few of the highlights that await you, there are other sites that you may wish to visit as well. (Age appropriate for children) The Vietnam Memorial, The Tomb of the Unknown Soldier, Arlington National Cemetery, The Capitol, Library of Congress, Jefferson Memorial, National Cathedral, Supreme Court Building.
All in all, Washington DC is a wonderful place where kids can visit historic sites, learn about government and history and, at the same time, visit other venues where they can let loose and have a great time!
---
From Washington DC to Vacation Destinations
From Washington DC, Return to Home