Billy Jeffrey Living Like Ralphie
Billy Jeffrey
paid more than
$4,000 in an eBay auction
to dress up in a bunny suit at The Christmas Story House.
But he also gained something priceless -- a Christmas experience with his sister and brother-in-law, whom he wouldn't have seen if not for his winning bid.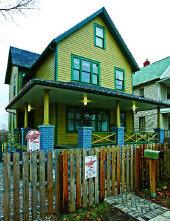 Billy Jeffrey -- a Lewiston, Idaho, businessman, reality television star and Chippendales performer -- spent two nights this week living like Ralphie in the Tremont house used for exterior shots in the 1983 movie "A Christmas Story."
Jeffrey, his sister Rachel Pierce and brother-in-law Sennett Pierce shot BB guns in the back yard, set a leg lamp in the window and crawled under the sink just like the kids in the movie.

Jeffrey even washed his mouth with Lifebuoy soap, the same way that little Ralphie is punished for cursing in the movie. How did it taste? Absolutely awful, Jeffrey reported.
The Christmas cult classic film stars Peter Billingsley as Ralphie Parker, a young boy determined to get a Red Ryder BB gun for Christmas.
Billy Jeffrey, who declined to give his age, bid $4,200 in an online charity auction to benefit the Cleveland Scholarship Programs, which promotes educational awareness.
About 50 bidders entered the auction, said A Christmas Story House executive director Steve Siedlecki. The House,3159 West 11th St. is open Wednesday and Christmas Eve but closed Christmas Day.
Jeffrey entered a similar Christmas Story House auction last year but was so busy working at a vitamin store he runs that the auction ended before he could increase his bid. "I was pretty bummed," he said.
When this year's auction was announced, he noticed that the Cleveland visit was scheduled to take place before Christmas. He knew that the Pierces, who work at a St. Louis hospital, could not take time off on Christmas. But Rachel Pierce, who loves "A Christmas Story," too, said she and her husband could meet him in Cleveland if he won.
When the auction ticked down to close about 10 days ago, Jeffrey was touring Germany with the Chippendales exotic dance troupe. He clutched his BlackBerry and let out a whoop when he saw the words, "auction ended -- you won!"
"All the guys were pumped. They all wanted to go," he said. "I told them I needed to pick family."
Jeffrey and the Pierces flew in Sunday night and took advantage of their free night at the Renaissance Cleveland Hotel. Their other prizes include a Chinese turkey dinner, a guest appearance on WMJI 105.7's Lanigan and Malone morning show and tickets to the Rock and Roll Hall of Fame and Museum.
Jeffrey has been a "Christmas Story" fan since the first time he saw the movie as a boy in Idaho. He was a cast member on Fox's "The Sexiest Bachelor in America" and the ABC reality TV series "True Beauty."
Jeffrey and his family spent Monday night watching a DVD of "A Christmas Story," then slept in the Christmas Story House. Wednesday called for Jeffrey posing for pictures on the staircase in that bunny suit.
The best part of the whole experience?
Getting to spend it with family, he said.
Find Other Christmas Stories
---
TOP to Billy Jeffrey


HOME to Ideal Places to Retire