Las Vegas Most Popular
Vacation Destination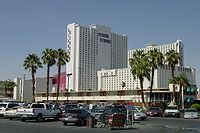 One of the many benefits of flying into Las Vegas McCarran Airport, is that most of the hotels on the strip are only one to three miles away. A weekend getaway to Las Vegas affords you the opportunity to hit the casinos within two hours of your arrival.
Moreover, the weekend packages to Las Vegas are quite affordable. For example, a weekend stay at the Tropicana, including a non-stop flight and accommodations costs approximately $473.00 per person.
Or if you prefer a more luxurious hotel, you can stay at the Bellagio Hotel. A one stop flight and accommodations costs $467.00 per person.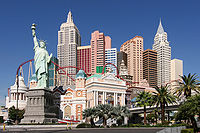 The Flamingo Hotel is another great vacation spot because it is within walking distance of all the hotels on the strip. The Flamingo has a lovely outdoor area where you can take a respite from the sounds of the slot machines and enjoy the dry climate as you sip a drink at poolside.
Across the street is Caesars Palace where you can view their 18 fountains that adorn its entrance. Or you can visit New York New York hotel, where you can grab a hotdog at Nathan's, a cup of coffee at Starbucks, or have a drink at the Times Square Bar.
You can also stay at the Bellagio where you can enjoy the dancing fountains or take in a performance of Cirque de Soleil before departing the city that never sleeps.
Where else can you find a getaway spot that has no clocks, inexpensive cuisine, friendly people, and an atmosphere that is filled with excitement, great fun, and fabulous accommodations?
A weekend in Las Vegas is a perfect getaway for anyone who is more interested in the gambling than the shows. Although there are countless activities beyond the casinos, this is the only place where you will find the best accommodations, casinos galore, and an atmosphere that is conducive to having the best time of your life.
Make you vacation destination an unforgetable experience.
Visit the official site for all the attractions.


---