McCain Concedes Presidency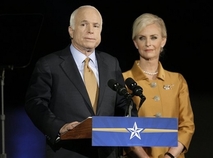 Republican John McCain conceded the presidential race to Barack Obama, saying the Democrat has achieved a "great thing for himself and for his country."
Flanked by wife Cindy and running-mate Sarah Palin, McCain spoke to supporters outside the Arizona Biltmore Hotel shortly after 9 p.m. Tuesday, saying the "American people have spoken and they have spoken clearly."
He conceded the contest as polls closed on the West Coast, adding a string of states to Obama's electoral vote tally and sealing the Illinois senator's victory.
"Senator Obama has achieved a great thing for himself and for his country," McCain said.
Although McCain had criticized Obama during the hard-fought campaign as too inexperienced to be president, the Arizona senator said that "in a contest as long and as difficult as this campaign has been, his success alone commands my respect for his ability and perseverance.
McCain told his supporters that it was natural "to feel some disappointment. Though we fell short, the failure is mine, not yours."
---
What are are You Looking For?
---
GO TO History in the making