Natchitoches, Louisiana
Comfortable Place to Retire
Retire to Natchitoches, home of the oldest settlement in the Louisiana Purchase; today, it is home to a unique blend of cultures, including French, Spanish, African, American Indian, Creole and American.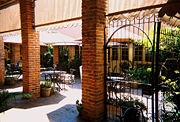 This Central City is within five hours traveling time from many major metropolitan areas. Shreveport, Louisiana 67 miles away, is the closest large city. Located conveniently in north-central Louisiana, it is within easy reach by automobile via Interstate 49. Here are maps and directions for your information.
Natchitoches Regional Airport is a public airport located 2 miles south of the city; it serves cities such as Baton Rouge, Dallas, Houston, Little Rock, New Orleans, Monroe, and Shreveport. It is also adjacent to Northwestern State University; (NSU) together they offer state-of-the-art flight training. Currently the airport is being renovated to become one of the country's most advanced non-towered airports.

Front Street, a well-known and historic area has a myriad of restaurants and shops that overlook the Cane River Lake, where the Cane River Creole National Historic Park and Magnolia plantations are also located. Many older mansions are nearby and include bed and breakfasts if you decide to stay the night.
The community offers a variety of recreational and sporting opportunities for outdoor enthusiasts as well as cultural programming including a local symphony orchestra, museums, art galleries, theatrical performances and a multitude of fairs and festivals. In addition to arts and entertainment, the region offers fine dining and shopping as well as quality health care and affordable housing.
It should also be noted that Natchitoches was one of the top 10 places to retire by the U.S. News & World Report and was given the 2007 Preserve America Presidential Award as well.
Its old-world influence by European settlers is evidenced through its architecture, heritage, and lifestyle. This certified retirement community offers retirees a stunning, peaceful, and comfortable place to settle.
Due to its affordable housing, great weather, and cost of living index; Natchitoches has become as distinctive as it is historic. If you are looking for an ideal place to retire, look no further.