Bed and Breakfast Offers a
Unique Lodging Experience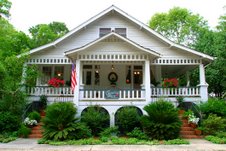 Bed and Breakfast is also known as B&B. The custom to opening home to travelers dates back the earliest day of Colonial America. Lodging establishments were few and far between in the 1700s, and apart from a limited number of coaching inns, wayfarers relied on the kindness of strangers to provide a bed for the night.
The interest in B&Bs coincided with an increasing interest in historic preservation, spurred by the U.S. Bicentennial in 1976 and assisted by two crucial pieces of legislation: the National Historic Preservation Act of 1966, and the Tax Reform Act of 1976. Most offers accommodation and breakfast, but usually does not offer other meals. Typically, bed and breakfasts are private homes with less than 10 bedrooms available for commercial use. Breakfast is served in the bedroom, a dining room, or the host's kitchen.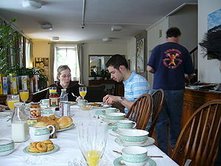 They are found in all states, in major cities and remote rural areas, occupying everything from modest cottages to opulent mansions, and in restored structures from schools to cabooses to churches.
In Louisiana, many are Country Inns that have expanded to offer services, business conference facilities. Some of the homes have wedding packages and meeting spaces as well. It is not uncommon now to find free wireless Internet access.
If you are planning a trip to investigate your ideal place to retire in Louisiana, consider visiting a bed and breakfast, they can be found in each Regions. Staying overnight in one of these treasured landmarks is an experience of a lifetime.

---
The Greater New Orleans:
Sully Mansion Bed and Breakfast Inn
2631 Prytania Street
New Orleans, LA 70130
Maison Perrier, Bed & Breakfast
4117 Perrier
New Orleans, LA 70115

The Greater Baton Rouge
Desert Plantation
PO Box 877
St. Francisville, LA 70775
Maison Des Amis
111 Washington Street
Breaux Bridge, LA 70517
Butler Greenwood Plantation and B & B
8345 US Highway 61
St. Francisville, LA 70775

Country Charm
1144 Lawless Tauzin Road
Breaux Bridge, Louisiana 70517

Cajun Country
Crochet House
301 Midland Drive
Houma, LA 70360
Naquin's Bed & Breakfast
1146 West Camellia Drive
Thibodaux, Louisiana 70301 USA
Country French
616 General Mouton Ave
Lafayette, Louisiana 70501

Crossroads
Violet Hill Bed and Breakfast
917 Washington Street
Natchitoches, Louisiana 71457

Samuel Guy House Bed & Breakfast
309 Pine Street
Natchitoches, LA 71457

The Bricks Bed and Breakfast Inn
819 23rd Street
Alexandria, LA 71301

Sportsman's Paradise
Fairfield Place Bed & Breakfast
2221 Fairfield Ave.
Shreveport, LA 71104
Country Peacock
710 Railroad Street
Belcher, Louisiana 71004

= = = = = = = = = = = = = =


TOP of the page Bed and Breakfast
GO TO Retire to Louisiana
BEST States to Retire
HOME to Ideal Places to Retire