Retire to San Francisco
"The City By The Bay"
Retire to San Francisco and begin a journey that will capture your heart. There have been many songs written about San Francisco, the most famous by Tony Bennett.
As a matter of fact, upon taking a boat tour around the bay, "I Left My Heart in San Francisco" is always played. Probably no other place is more recognized than this wonderful city.Besides its cultural diversity, San Francisco is noted for many historic monuments and places of interest. The Golden Gate Bridge, Coit Tower, Fisherman's Wharf, Lombard Street (the most crooked street in the world), as well as its incredibly beautiful landscape, arts and entertainment, superb cuisine, and Ghiradelli – where you can indulge in the world's most famous chocolates, are just some of the reasons why San Francisco is an ideal place to retire.
With its galleries, museums, gardens and parks, golf courses, and a myriad of sporting areas as well as its famous Japanese Tea Gardens, living in San Francisco can be the most exciting time in your life. While housing is expensive, one must keep in mind that salaries are the third highest in the country and thus one can afford to live modestly in San Francisco, especially if one is interested in pursuing part time work in technology or professional fields.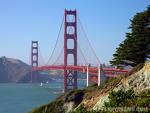 The cable cars in San Francisco allow you to easily get around town. There are also ferries which you can take from other counties to the city, as well as buses and the newly built transit system. This great city also houses the University of California, which is renowned as being the best educational institution in the country.
Retire to San Francisco and you will never run out of things to do. Visiting other cities such as Sausalito, located in Marin County, which is a short ride over the Golden Gate Bridge.
The nightlife in San Francisco is exciting and the cuisine is the finest in the world. There are not enough days in the week to be able to participate in the variety of activities offered in this city.
Moreover, you can easily drive or take a short flight to Los Angeles, the movie capitol of the world. Or you can simply explore the nine counties that make up the fifth largest city in the nation.
Retire to San Francisco and as the song states, "Be sure to wear some flowers in your hair."
Photos by Renaude Hatsedakis
---
Join a free walking tour of San Francisco offered by dedicated City Guides Volunteers who are serious about sharing the fun of discovering San Francisco. Tours are offered 52 weeks a year, rain or shine.
Approximately 30 different walks are offered each month.
---


The Ferry Plaza Farmers Market is a California certified farmers market, it offers produce and flowers from small regional farmers and ranchers. Click here for more information.
---
From Retire to San Francisco to Retire to California

From Retire to San Francisco to Home
---