Retire to Charlotte, North Carolina
Nicknamed "Queen City"
Retire to Charlotte NC to enjoy the
many benefits this city has to offer.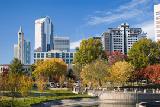 The moderate weather is one of its strongest assets. Charlotte offers four very distinct seasons, with gorgeous spring weather and no extreme cold winter characteristic of the North. The area's climate can best be described as moderate, pleasant and sunny.
Charlotte, North Carolina is the United States second largest banking and financial hub behind New York City. Despite the economic slowdown, it continues to draw thousands of new residents a year, thanks to a diverse manufacturing base. Charlotte is also a major center in the US Motor Sports industry..
The center city/uptown area of Charlotte has seen remarkable growth over the last decade. Bank of America Stadium is located in the center of Uptown, it is the home facility of the Carolina Panthers-NFL football.
Charlotte is home to many excellent museums and art galleries; it includes the Charlotte Museum of History -Mint Museum of Craft and Design -North Carolina Transportation Museum. It is also well-known for their long established gardens; here are two of the most popular:
Ribbon Walk Nature Preserve is a stunningly beautiful 154-acre nature reserve just 10 minutes from city center. The preserve is a great place to experience the woods and unspoiled nature.
The McGill Rose Garden boasts over 1,000 roses, plants, and herbs in a colorful garden that includes gardenart and sculptures.
Some Charlotte neighborhoods offer the hustle and bustle of urban living, while others provide the slow, peaceful setting of the suburbs. Charlotte neighborhoods have a friendly and livable atmosphere.
Charlotte has been rated as one of the best place to retire in America based on many qualities of life, the variety of housing options and affordability. According to the National Association of Realtors, the growing Charlotte region is an affordable place to live with the median home price of $169,400
If you wish to continue your education at The University of North Carolina-Charlotte or Central Piedmont Community College both offer tuition-free classes for seniors who retire to Charlotte.
---
---