Retire to Denver Colorado
Nicknamed "The Mile-High City"
Retire to Denver, it has become the choice of Baby Boomers
to consider it the Ideal Place to Retire.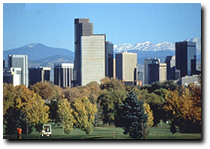 This City is the capital and largest city of the Colorado State. It is located on the plains just east of the Rocky Mountains. Denver is nicknamed "The Mile-High City" because its official elevation is one statute mile, 5,280 feet, above the sea.
This is one city in which you will never run out of things to do. There are over 200 parks and cultural institutions such as three opera and dance companies, the Denver Art Museum, Botanic Gardens, Museum of Nature and Science, Museum of Contemporary Art, and the University of Denver as well as over 25 recreation centers, just to name a few.
If you love the outdoors, you'll love Denver. Among the many recreational activities you can engage in are: biking, cricket, hiking, fishing, swimming, and enjoying rodeo events. Among the many parks available, the Rocky Mountain National Park is well-noted for its forests, fields, meadows, cliffs, rivers and valleys that have become a magnet for visitors year-round.

There are several well-known shopping sites in Denver as well. Market Street in downtown Denver, Heritage Square, Tamarac Square, and Marina Square; all of which have a variety of items such as pottery, jewelry, leather, specialty shops, as well as boutiques, movie theaters, and restaurants offering the most delicious cuisine. There is casual to fine dining in Denver that offers cuisine for every taste. More importantly, the dress code is just as casual.
Whether you choose to live in any one of the Denver neighborhoods such as Washington Park, City Park, Governor's Park, or Cherry Creek; there is something for everyone and the idea of living in a city where there is plenty of wide-open spaces is a major attraction. There are also many exceptional farmers' markets in Denver as well. Among them are Cherry Creek, City Park, Stapleton, Highlands Ranch, and Southwest Plaza.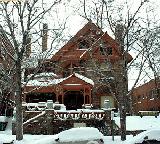 The Molly Brown House Museum, is located at 1340 Pennsylvania Street in the historic Capitol Hill neighborhood. Built in 1889, it is a lavish 14-room Victorian mansion that has been fully restored to its turn-of-the-century grandeur. It has a large collection of early-20th-century furnishings and art objects, many of which belonged to the Brown family.
It was the home of American philanthropist, socialite, and activist Margaret Brown. Brown was known as "The Unsinkable Molly Brown" because she survived the sinking of the Titanic . The Museum now located in her former home presents exhibits interpreting her life and that of Victorian Denver as well as architectural preservation. The house is seen on a guided tour.
If you are looking for the best place, retire to Denver. With its diverse culture, arts and entertainment, restaurants, shopping, great weather, friendly neighborhoods, the Rocky Mountains, and recreational activities year round; it definitely deserves your attention. Retire to Denver, it has been named one of the fastest growing cities in America.