Retire to Knoxville TN
College Town
Retire to Knoxville, Tennessee voted 10th as the ideal place to retire to; it has increasingly become part of many of the top ten lists for affordable living, and more importantly, one of the top ten places to live in the US.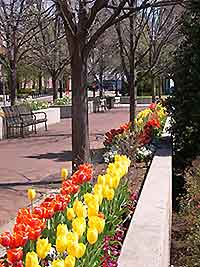 If you plan to retire to Knoxville, Tennessee you will not be disappointed.
Having been to the 1982 World's Fair, along with 11 million other visitors, Knoxville encompasses the Great Smoky Mountains and its people as just as wonderful as well.
Their hospitality and friendliness add to the ambiance and culture this city is noted for.
More importantly, with the housing market on the decline, you will be hard pressed not to find a new home that is affordable but considering that Knoxville's cost of living is below the national average, you can live out your dreams in a city that offers a plethora of arts and entertainment.
Along with its festivals, it also has a diverse culture which adds to the richness of this great city. Its museums, performing arts, theaters, symphony, opera, dancing, trade shows, the farmers market, and crafts shows, shopping malls, and beautiful lakes and parks are instruments which only add to the rich heritage and history of this great city.
Wildlife lovers will enjoy the serene beauty of Cades Cove, which was first settled in 1819. If you remember the movie, "The Dollmaker," you will immediately be transported back to the time the first settlers arrived and remnants of this time include structures left behind.
Be sure to enjoy its wonderful cuisine, entertainment, shopping and other recreational activities which run the gamut from hiking to annual events which are not only inviting, but provide enjoyment and camaderie unlike any other city.
While Knoxville has affordable housing, there is no state income tax. In addition, the property taxes are quite low and averages $2.81 per $100 of the assessed value of your home.
Retire to Knoxville, Tennessee, home to the University of Tennessee and one of the nation's smallest but distinctive colleges – Tusculum. Retire to a college town and become involved in the finest educational system in the country.


---

The Market Square Farmers Market
is located in historic Market Square, the site of Knoxville's original Market House. Every Wednesday and Saturday throughout the season the Square is filled with local farmers, gardeners, bakers, and artisans, as well as performers and musicians.
Market Square has become the place to gather for events, shopping and dining downtown. From rock concerts to Shakespearean plays, local produce to exotic crafts art shows to high fashion, you'll find it all in the heart of downtown Knoxville on Market Square.

---

From Retire to Knoxville,TN to Retire to College Towns