Retire to Loveland, Colorado
Best Place for Arts and Music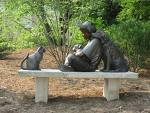 Retire to Loveland, a small town approximately 45 minutes from Denver, Loveland is another best place to retire for arts and music. Touted as attractive with an older residential community, it is lined with single family homes nestled under large trees and new neighborhoods. Overlooked by incredibly beautiful mountains, Loveland offers retirees easy access to year round fun. And it is all about fun, after all.
Loveland faces the majestic Front Range of the Rockies and sits under blue skies. Because of its proximity to Rocky Mountain National Park with its skiing, hiking and fishing, it is no wonder that Loveland has been known as "the outdoor Eden." With so many newcomers flocking to its doors, it has been placed fifteenth among the fastest growing areas nationwide. Perhaps it's because we seem to be embracing nature and its many wonders. With so much of our land being decimated, isn't it nice to know there are still small towns who take pride in their land and do all they can to embrace its beauty? Consider to Retire in Loveland.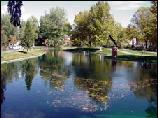 Situated in the heart of the city, Lake Loveland, with its sandy shores, and its tranquil sculpture garden, is part of almost 300 acres of green playground. Golf courses, athletic fields, and bicycle paths mark the landscape. But in the midst of all this space is the Loveland Museum/Gallery, a center for historical exhibits and the performing arts.
While housing prices in Loveland are above the national median, it is considered to be far more affordable than those in Boulder, a long-popular city that has many similar amenities. Research this town in depth and find out why so many retirees are moving there. Besides the incredibly beautiful mountains and the ability to really enjoy nature to its fullest, Retire to Loveland, Colorado, a lovely town and one which is considered to be the best place to retire for art and music.


Loveland has an international reputation

Loveland is perhaps best known nationwide as the home of the Valentine Re-Mailing Program. 2010 is the 64th year of the popular Loveland Valentine Re-Mailing program kicks off Monday February 1st.

Every year, hundreds of thousands of Valentines are packaged inside larger envelopes and sent to Loveland, where volunteers hand-stamp them with a Valentine's verse and send them on to the intended recipients. More than 200,000 cards are re-mailed each year from around the world.
---
TOP
Retire to Loveland
RETIRE
to Colorado State
GO TO
Best States to Retire
Home
From Retire to Loveland