Retire to Prescott, Arizona
Best Place in the Southwest

Retire to Prescott, nestled in the mountains of northern Arizona, Prescott has been touted as "Everyone's Hometown."This statement is backed up by its historical and cultural heritage. Let's review why this town is so popular.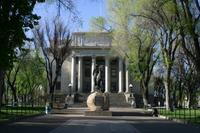 Among its many highlights, the Courthouse Plaza, which is located in the center of downtown, is where everyone comes together to enjoy a plethora of activities, such as craft fairs; antique shows and art shows. This is where the heart of Prescott lies. In addition, there is Whiskey Row; the world's oldest rodeo; Prescott's Fine Arts' Sharlot Hall Museum; Phippen Art Museum, Smoki Museum, Folk Arts Fair, Frontier Days and Territorial Days
In addition, Prescott has a 1.2 million acre National Forest in which you can participate in hiking and a variety of outdoor recreational activities, including boating and fishing. Moreover, Prescott is among the top 100 small towns in America because of its fantastic climate, culture and performing arts; museums; healthcare, taxes, and cost of living. In fact, Prescott was recently named as the 6th best metropolitan areas in the US. This is one city that caters to every age
More importantly, however, it is the historic significance of this city and the preservation of historic buildings and places that one finds most impressive. Sharlot Hall Museum, the largest museum in central Arizona, and founded by historian and poet Sharlot M. Hall, explores the diversity of the city's regional heritage through its festivals, living history events, outdoor theater performances, and exhibits.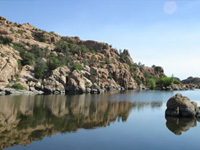 Retire to Prescott and become part of a vast array of an historic, architectural and cultural influence that has made this town the most popular one in the US.
An elevation of 5300 ft provides a mild climate for those looking to escape the heat of Phoenix and Tucson. Average temperatures for the area are 85 in the summer and 52 degrees in the winter.
Prescott offers year round recreational activities including: golf, biking, fishing, hiking and camping and Casinos for your enjoyment. A great place to work, live and enjoy, Retire to Prescott it has been recognized by leading publications as one of the "Ideal Places to Retire".
Make sure to visit The Adult Center of Prescott, it provides a broad range of recreational, educational, and social activities for Prescott adults.


Prescott and the nearby towns of Chino Valley and Prescott Valley
form what is known locally as the "Tri-City area":
Chino Valley is a beautiful, semi-rural town with open land,
sunny skies and friendly people. Read more
Prescott Valley has grown into one of the most progressive and
attractive communities. So,Where is Prescott Valley?
---
TOP Retire to Prescott Valley
GO TO Cheapest Places to Retire
HOME to Ideal Places to Retire