Retire to Spokane Washington
Nickname The "Lilac City"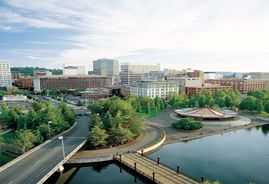 Retire to Spokane instead of Florida? In researching ideal places to retire, it seems the mindset of most retirees has changed. Moving to an area that is vibrant and alive with university students seems to be the norm, rather than the exception. Why? Consider that living in a city filled with young people contributes to the abundance of cultural programs and maintains a young and vibrant atmosphere.
In addition, there are many reasons to relocate to Spokane. It is a safe and clean city, filled with restaurants, arts and music, beautiful gardens, incredible landscapes, boasts a friendly and caring community, and offers one the opportunity to become involved in community activities on a daily basis.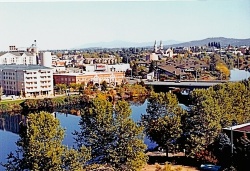 Besides, if you are like most people who love the four seasons, this is the place for you. During the summer months you can participate in many of the lake recreational activities; in the winter you can either enjoy the natural beauty of the snow-capped mountains, or partake in winter sports. Spokane official nickname is the "Lilac City", named after the flowers that have flourished since their introduction to the area in the early 20th century.
The springs months afford you to walk among the many historic sites downtown, or stroll along Riverfront Park and participate in summer concerts, or perhaps you would enjoy the most beautiful Nishinomiya Garden with its footbridge in Manito Park.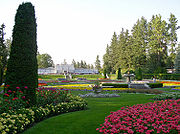 You can also visit the restored one hundred year old Carousel. In addition, once you retire to Spokane you can engage in such activities as fishing, boating, hiking or skiing. If you love golf, Spokane is one of the best places to play.
Another very popular attraction: the Spokane River Centennial Trail. It's a great place to run, bike, skate, or walk for just about as many miles as you care to go, starting nearly right outside your door from Riverfront Park in downtown Spokane; the Urban part of the Centennial Trail that goes past Gonzaga University.
While most people retire to the comfort of a city where retirement communities offer a plethora of activities; it is the baby boomers that are reinventing the word. More and more cities with college communities are experiencing an influx of retirees, and to their benefit, are offering a new perspective and lifestyle as well. Retire to Spokane instead of Florida – you'll be happy you did.
---

For Your Info. If you are a first time buyer, the federal government
has just expanded the homebuyer tax credit to April 30, 2010
to include qualified current homeowners looking to purchase a home.
Click here for more information or visit FederalHousingTaxCredit.com.
---
---
The Spokane River Centennial Trail, goes through beautiful country mostly following the River; 37 miles of paved trail from Nine Mile Falls, Washington to the Idaho border.
It's a great place to run, bike,skate, or walk for just about
as many miles as you care to go.
---
---

from Retire to Spokane to Retire to Washington State

from Retire to Spokane to Ideal Places to Retire