Beautiful Riviera Maya Mexico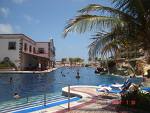 The Hotel Marina El Cid Riviera Maya is an oceanfront Cancún resort located on the Riviera Maya, within one mile of Puerto Morelos and the National Reef Park. An outdoor swimming pool has waterfalls, a diving platform, and water slides.
The Hotel Marina El Cid has 350 guest suites that are located on four floors. All rooms have a balcony or terrace overlooking the ocean or pool, as well as mini-bars and complimentary bottled water. One-bedroom suites have a kitchenette. Room service is available 24 hours a day.
The majority of amenities, activities, and gratuities at this resort are included in the room rate; guests will not be charged extra for the majority of amenities and activities.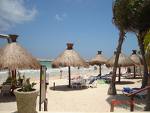 The food is delicious, fresh, varied, and plentiful. The rooms are clean, comfortable, and the staff is more than accommodating. In addition, you can obtain the lowest rate by checking out this hotel online and clicking on price comparisons. Some hotel rates were as low as $404.00. You can also check with your travel agent to ascertain the air/land package rates as well.
The Hotel Marina El Cid Riviera Maya is close to shopping, restaurants, and other venues as well. Consider the Mayan Rivera for its culture, history, and an overall experience that you will talk about for years to come.
Over the years, Acapulco has become a touristy destination. However, the Las Brisas breaks that mold. Here, you can relax and enjoy the amenities this hotel offers. You can spend the entire vacation in secluded splendor.
Keep in mind, you will need proper identification. Check with your travel agent to determine the weather in January and if there is any other tips he or she can provide. The weather in Riviera Maya is ideal and the beautiful white sandy beaches, make for a perfect vacation destination.

---
What are are You Looking For?
TOP to Reviera Maya Destination
RETURN to Vacation Destinations
HOME to Ideal Places to Retire