Del Webb Communities are located in Several States
Del Webb has become the top rated independent
active communities among retirees.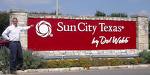 When Del Webb built the first-ever retirement community in 1960, in Sun City, west of Phoenix, Arizona, active adults have found a place to belong. Today there's a greater variety of independent living to choose from than ever before.
Now there are more than 50 housing arrangements in 20 states, from the desert West Coast to coastal regions and the Midwest. Because they are located in more areas, you can enjoy a place of your own without leaving your roots and more importantly, your kids and grand-kids.
The appeal of these independent Communities for active adults focuses largely on health, wellness and personal enrichment. It is the perfect destination with various recreational activities for every resident.
In addition, they offer age-restricted communities, which are housing areas that restricts ownership to individuals who are over a set age. Often the minimum age is 50 years, but 55 and even 60 are also used.
In addition to restrictions on ownership, such communities frequently have age requirements for residency as well. These communities are set up to accommodate older individuals who would like to live in an area without the perceived problems of having children around.
The bottom line is that the Del Webb community focuses on retirees who are active and who wish to enjoy all of the amenities independent communities offer.
Retire to Sun City, Arizona


Sun City, Arizona enjoys the reputation as one of the world's most popular and thriving active-adult communities.
Find Other Sun Cities!
---