Port Charlotte Florida
Best Place to Retire
Port Charlotte, Florida is an Ideal place to retire, located on the beautiful west coast of Florida, approximately 100 miles south of Tampa.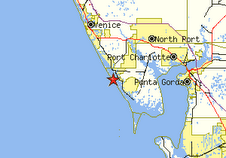 This city is mainly a residential community where a number of saltwater canals run throughout the city making it possible for you to dock your boat right in your own back yard. Most of these artificial canals lead to Charlotte Harbor which will take you to the Gulf of Mexico. Port Charlotte is one of the many small cities located around Charlotte Harbor.
Its residents enjoy beautiful weather year-round, making it possible to enjoy outdoor activities virtually whenever you want; with four golf courses and minutes from the beach, it has been a rave among those who have visited this area, and they all agree that this is the best place to retire to. Besides being a great golfing community, it is also a boater's paradise. Jogging, walking, golf, tennis, bird watching, gardening and more are possible almost any time in Southwest Florida.
Art galleries, festivals and exhibits, a professional symphony orchestra and theatrical productions offer artistic and cultural experiences year 'round. History buffs will want to soak up Charlotte Harbor & the Gulf Islands' rich past. The Cultural Center of Charlotte County also offers educational and recreational activities almost every day of the week.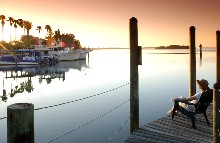 Not too far is the city of Punta Gorda. This historic town lies along Charlotte Harbor, and its streets are lined with royal palms along with restored period homes. It's a walk back in time! Nearly everything is waterfront here from hotels and shopping to parks and fine dining.
Deciding to retire to Port Charlotte will undoubtedly afford you the uniqueness and variety of this community. Complete with arts festivals, historical downtown, and over two dozen parks, this city promises to reveal its natural beauty. It is number three among the top places to retire in Florida; and has become the city of choice among retirees.
Among the many recreational amenities offered in Port Charlotte include one of the largest malls on the coast, including such stores as: Burdines; J.C. Penney, Dillards; sears, and more. In addition, taking a short drive north will find you in Sarasota, where you can walk the sidewalks of
St. Armands Circle, or visit the outlet mall there as well.
While some people prefer the ambiance of big city life, you can still take advantage of all of the surrounding cities which offer a myriad of amenities. Tampa and Orlando are also nearby for day trips to amusement parks and other big city attractions. The Everglades National Park, one of the most spectacular natural ecosystems in the United States, is only a short drive away.
Retiring to Florida doesn't have to necessarily mean taking up residence in a bland community where there is nothing to do. Seize the day and add Port Charlotte to your list of ideal places to retire in Florida.
Please note that the current mortgage crisis has created never to be repeated opportunities. Why not find the home of your dream by simply locating a Realtor to help you?
---
---
You can use the box below to search for particular information either on this site or on the entire world wide web.
---
TOP Retire to Port Charlotte Florida
GO TO Cheapest Places to Retire
HOME to Ideal Places to Retire
---