Retire to Austin Texas
A Renowned College Town
Retire to Austin Texas, an excellent college town where you will find the lists of organizations and activities are endless.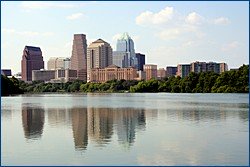 The city of Austin stands of the banks of Texas Colorado River, situated in the very heart of Texas and is surrounded by a particularly beautiful area of green hills and large lakes.
From the arts, (which seems to have the most to offer in musical entertainment), dance, sports, dining, museums and outdoor activities as well, there is no doubt this affordable city is akin to one-stop shopping for all retirees who are not only looking for quaint small-town cities, but offers you the opportunity to increase your knowledge by participating in the many courses offered by the University of Texas in the field of technology, academics, and arts and entertainment.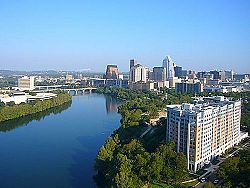 Retire to Austin and become part of a community filled with artists and musicians who make up the famous 6th Street downtown area where every night you can be entertained by an entire genre of music you would be hard pressed to find in one location. Austin also features many excellent museums and art galleries in the city center, providing historic information about Austin together with other exhibitions.
Texas is one of only a handful of states with no individual income tax, however, note other taxes based on where you live. The good news is Austin ranks 9th in taxation, so this is another incentive for you
to retire to this affordable city.
Voted as one of the top 25 places to live, due to its affordable housing, you may want to learn more about retiring to Austin and to consider the possibilities of purchasing a home. While home sales are declining this may be a perfect time to take advantage of this hot real estate climate; the market is especially tight for existing houses in the $80,000 to $175,000 range according to the Austin Chamber of Commerce.
If you are ready to retire to Austin Texas, take the next step, check out this city with its diverse population and become part of this most exciting and up and coming community for retirees.



For Your Info. If you are a first time buyer, the federalgovernment
has just expanded the homebuyer tax credit to April 30, 2010
to include qualified current homeowners looking to purchase a home.
Click here for more information or visit FederalHousingTaxCredit.com.
University of Austin,Texas
US News
named Austin Texas as one of the
Best Place to live in 2009
. The city's warm climate offers plenty of sunshine, while the open green spaces don't provide any excuse for staying indoors.
"Keep Austin weird"—slogan is as a reference to the many small businesses in Austin, which give the city its unique cultural identity. Austin is "Weird" because it continues to be progressive in the arts and music.
Retire to Austin Texas, make yourself at home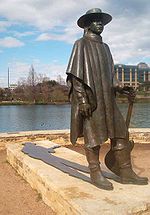 Stevie Vaughan statue
on Lady Bird Lake
The
Colorado River
flows through
Austin
and empties into the
Gulf of Mexico
, it is often confused with the Colorado River which flows from the state of Colorado westward toward the Pacific.
The Lady Bird Lake is a major recreation area located in the center of Austin City. Explore Zilker Metropolitan Park, Austin's premier park, located along the shores of Lady Bird Lake, with beautiful Barton Springs running through the center.
The park serves as a hub for many recreational activities and the hike and bike trail around Lady Bird Lake, both of which run along the Texas Colorado River. There is fun for anyone!
All eyes are on Austin where election 2008 has become the center of this presidential campaign.Never,in the history of the electoral process, have we witnessed asurge in support, volunteerism, and a general enthusiasm that has been exhibited by individual across our great nation.This is Election 2008: History in the Making.
TOP of Retire to Austin Texas
RETURN to College Towns
GO TO Best States to Retire
HOME to Ideal Places to Retire