Retire to Vancouver, Washington
Across Portland, Oregon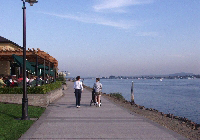 Retire to Vancouver, Washington's fourth largest city situated on the north bank of the Columbia River directly across from Portland, Oregon. The revitalized city with its eclectic blend of new construction and historic architecture, Vancouver combines the excitement of a major metropolitan area but with the charm and hospitality of a small urban town.
The downtown area is bustling with quaint eateries, art galleries, and a wide variety of retail shopping from charming boutiques to antiques. The area also offers numerous year-round attractions and events to keep visitors well entertained and continually busy; within minutes, you can explore many historic attractions.
If you retire to Vancouver, Washington, you will find that Vancouver, steeped in history, is the oldest city in Washington. Fort Vancouver National Historic Site has several buildings completed with period furnishings and have been reconstructed to honor the early 19th-century. The fort is the heart of the Vancouver National Historic Preserve and opens for tours.
Vancouver Farmers Market opens every weekend – rain or shine. It is a family and pet friendly place to spend the day, located right across the street from beautiful Esther Short Park, in the heart of downtown; it has become one of the regions largest outdoor markets and is Southwest Washington's largest visitor attraction. You'll discover fresh produce, plants and flowers, baked goods, delicious food, unique accessories for yourself, home, or garden, and a lot more. Farmers Market is a wonderful place to visit.
Cruise on the Columbia River
.The pleasure of fine dining and a relaxing cruise on the Columbia and Willamette River is one of the perk when you retire to Vancouver. The Portland Spirit offers several sightseeing and meal cruises any time of year in any weather. For more information
visit the Portland Spirit.
Columbia River Gorge is a spectacular river canyon cutting the only sea-level route through the Cascade Mountain Range. Hiking, mountain biking, windsurfing, camping, fishing, boating, wildlife watching, birding, wildflower viewing, photography, picnicking, rock climbing. You can do all this and more in the Columbia River Gorge National Scenic Area.
The Luepke Senior Center is a full-service senior center located in Central Park, adjacent to the Marshall Community Center; well over 100,000 Vancouver and Clark County seniors enjoy enrichment activities offered at the center, the place to meet new people and make friends. There are even several Casinos for your enjoyment.
Enjoy an active retirement lifestyle while helping others. RSVP is open to people 55 and older, retired or semi-retired. Call 360-735-3683. Retire to Vancouver, it has adventures to satisfy everyone!
---
Fort Vancouver National Site


Fort Vancouver National Site is located in the heart of Vancouver, Washington, it is the
only National Park
in the Vancouver/Portland metropolitan area. Here are information to help you learn more about this
historical site
.
---
Pearson Air Museum


The Pearson Air Museum is located at
Pearson Field
, the nation's oldest operating airfield. Step into the museum's
pre-World War II Army Air Corps hangars
, immerse yourself in early era of
aviation history
and learn about the milestones that have occurred at Pearson Field since 1905.
---

From Vancouver Washington to Retire to Washington State